Drew Gooden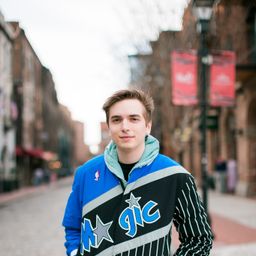 Drew Gooden is a YouTube comedian and commentary content creator based in Orlando, FL. Drew first rose to internet fame for his popular sketch videos on Vine and has continued his comedic career through YouTube. Drew's witty commentary on crazed internet trends, poorly made movies, and pop culture news landed him the 2021 Streamy Award for Commentary.
Community Track
Standout Scripts: The Key to Strong Storytelling
Duration: 1 hour
Location: Creative Lab Stage
Saturday, June 24
11:30 am - 12:30 pm
Featuring: Drew Gooden, Rebecca Parham (Let Me Explain Studios), Julian Bass and more
Crafting a video takes more than just a great idea. Behind the scenes, creators are working tirelessly to choose the right topics and compose scripts that will make for entertaining and captivating content. Get an inside look into how these creators choose the right themes for their audience and build out scripts in the unique voice their fans have come to know and love.
Participants
---
Community Track
Live Podcast: Very Really Good
Duration: 1 hour
Location: The On Air Stage
Friday, June 23
1:00 pm - 2:00 pm
Featuring: Kurtis Conner, Drew Gooden, Danny Gonzalez
Hang out with Kurtis Conner, Drew Gooden, and Danny Gonzalez for a much-needed laugh as they record an episode of Very Really Good!
Participants
---
Community Track
Creative Commentary
Duration: 1 hour
Location: Spotlight Stage
Thursday, June 22
11:30 am - 12:30 pm
Featuring: Danny Gonzalez, Kurtis Conner, Eddy Burback and more
Join your favorite commentary creators to learn more about their process! How do they choose their topics? Is there a strategy behind when each video is released? What makes their approach to a subject unique, allowing them to stand out from others in the commentary space? Get answers to these questions and more in this fun and informative panel!
Participants
---