Kurtis Conner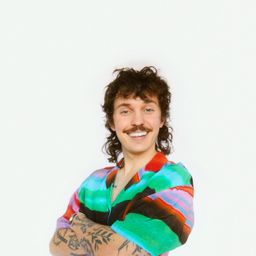 Kurtis Conner is a Toronto-based sell-out performer, podcaster, and global YouTube sensation! After studying comedy writing and performance in Toronto, Conner quickly found an audience on Vine which he later migrated to YouTube. His audience has grown to over 4 million subscribers worldwide. His 2016 stand-up record Cuppla Jokes reached number six on the Billboard Comedy Chart and number one on iTunes, while his videos regularly hit the Top Ten Trending page on YouTube. Conner embarked on his largest tour to date in 2022, Kurtis Conner Live!, performing at some of the most renowned venues in North America.
Community Track
Live Podcast: Very Really Good
Duration: 1 hour
Location: The On Air Stage
Friday, June 23
1:00 pm - 2:00 pm
Featuring: Kurtis Conner, Drew Gooden, Danny Gonzalez
Hang out with Kurtis Conner, Drew Gooden, and Danny Gonzalez for a much-needed laugh as they record an episode of Very Really Good!
Participants
---
Community Track
Creative Commentary
Duration: 1 hour
Location: Spotlight Stage
Thursday, June 22
11:30 am - 12:30 pm
Featuring: Danny Gonzalez, Kurtis Conner, Eddy Burback and more
Join your favorite commentary creators to learn more about their process! How do they choose their topics? Is there a strategy behind when each video is released? What makes their approach to a subject unique, allowing them to stand out from others in the commentary space? Get answers to these questions and more in this fun and informative panel!
Participants
---