Merrell Twins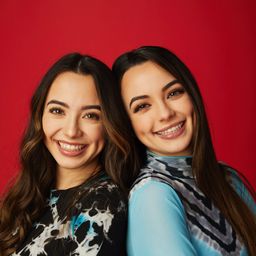 The Merrell Twins are entertainment creators and identical twin sisters, Veronica and Vanessa Merrell. The sisters are producers, professionally trained musicians, singers, songwriters, and actors. They're known for their work on the CW Network's "Jane the Virgin" (2014, 2015, 2016), MTV's "Faking It" (2015), "The Standoff" movie (2016), "Like A Boss" movie (2020), "Switched" movie (2020-Vanessa) several series and videos on AwesomenessTV's YouTube channel such as "Twin My Heart", Seasons 1, 2, and 3, and videos on Nickelodeon's YouTube channel. Their main YouTube channel, Merrell Twins, has more than 6 million subscribers and more than 1 billion total views. They post videos showcasing their range in both comedy and music such as original comedy sketches, original scripted series, original songs and music videos, popular song parodies and covers, original funny songs, and challenges. Through their production company, they have released several-episode original scripted series such as "Prom Knight" and "Breaking Into College". The "Prom Knight" series amassed more than 8 million combined organic views after its release. The Merrell Twins won a Shorty Award for YouNower of the Year in 2016 and received a second Shorty Award 2019 nomination for the category of Best YouTube Ensemble. They won two Streamy Awards for Best Live show in 2016 and for Lifestyle in 2018. They were nominated for a Teen Choice Award 2017 for Choice Female Web Star, nominated for two Teen Choice Awards 2018 for Choice YouTuber and Choice Female Web Star, and nominated for a Teen Choice Award 2019 for Choice YouTuber. The Merrell Twins were nominated for a Nickelodeon Kids' Choice Awards 2020 in the category of "Favorite Female Social Star".
Community Track
Quality Time with the Merrell Twins & Burriss Bros
Duration: 1 hour
Location: Spotlight Stage
Saturday, June 24
10:00 am - 11:00 am
Featuring: Merrell Twins, Aaron Burriss, Alex Wassabi
Join the Merrell Twins and Burriss Bros as they take the stage for this hour of fun! Get your questions answered and spend quality time learning about these epic creator duos.
Participants
---
Community Track
Family vs Family
Duration: 30 minutes
Location: Festival Stage
Saturday, June 24
11:30 am - 12:00 pm
Featuring: Merrell Twins, Hudson Matter, Salish Matter
Does family really know best? How much do you know about your favorite creator siblings? Find out during this exciting game where relatives will face off, answering questions about each other. Three pairs will enter, one will win!
Participants
---
Community Track
Night of Awesome
Duration: 2 hours
Location: Arena
Saturday, June 24
5:30 pm - 7:30 pm
Featuring: Lauren Ashley Beck, Michelle Khare, Lewberger and more
The night of all the things you love about VidCon. Witness the weird, the wonderful, and the just plain outrageous in this night full of laughs, music, and big reveals with your favorite creators. Join us at the VidCon Arena Stage Saturday evening for a grand finale of VidCon 2023 you won't want to miss!
Participants
---