Beauty2thestreetz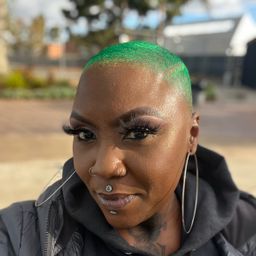 "Hey ya'll," "Hi love muffin," "How are you punkin?" All familiar words whether you are in her line in Skid Row, CA or wherever you have tuned in and caught a glimpse of Shirley Raines via Instagram. Originally she started serving with another local organization but quickly found her own calling. Women started complimenting her on colored hair, beautifully done makeup, and lashes. Realizing at their core these women are still women and were interested in looking nice, she started bringing out makeup, lashes, and hair dye thus Beauty2thestreetz was born. The people of Skid Row quickly came to know Shirley, her cheerful conversation filled with affection and hope. She's gained the trust of a handful of women and men, which has only grown over time. She is no stranger to helping people but didn't realize her passion would bring her down a path of healing from her own struggles in life. She makes it a point to service the back areas where people don't have access to the amenities (though small) Skid Row has to offer. Through her service she's met many beautiful people, gay, straight, transgender, and of all ethnicities, and no one is ever turned away.
Community Track
Do Good, Feel Good
Duration: 1 hour
Location: Amplify Stage
Friday, June 23
4:00 pm - 5:00 pm
Featuring: Beauty2thestreetz, MdMotivator, juixxe and more
In this panel, creators will discuss how they're using their platforms to make a positive impact on their communities. Tune in to hear about the ways in which content creators influence their audience to promote change, the ethical challenges they face, and tips for identifying content that reflects sincere beliefs versus content that prioritizes clicks.
Participants
---
Community Track
Skin Just Like Pearls
Duration: 1 hour
Location: Spotlight Stage
Saturday, June 24
4:00 pm - 5:00 pm
Featuring: Lauren Ashley Beck, Beauty2thestreetz, Tatyana Joseph and more
Just like Beyoncé, we wouldn't trade these amazing creators for anybody else. In this inspirational hour, these creators will discuss what it's like being a Black woman online, the message each creator is hoping to send to their audience, and what it means to be role models to young Black youth everywhere.
Participants
---