juixxe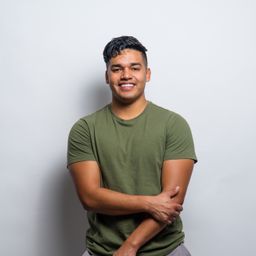 Jesús Morales also known as "juixxe" is a 26-year-old, first-generation Mexican immigrant who uses his platform to give back to local street vendors and strangers in the community. Driven by the desire to help others, Morales has raised over $300,000 to directly support vendors from the local fruit stand on the street corner to the ice cream cart walking through on the beach. He collects donations through apps like Venmo and Cash App which he uses to provide gifts in the form of cash, laptops, tablets, and even fully paid off cars. With the help of his followers and brand sponsors, juixxe plans to give away millions of dollars. His audience not only wants to provide him with cash to donate, but they have become fans of his powerful and moving mission. He has partnered with brands such as Intel, McDonalds, and Ally Bank. His future goals include expanding into longer form content, partnering with brands for larger giveaways, and helping all those he interacts with along the way.
Community Track
Do Good, Feel Good
Duration: 1 hour
Location: Amplify Stage
Friday, June 23
4:00 pm - 5:00 pm
Featuring: Beauty2thestreetz, MdMotivator, juixxe and more
In this panel, creators will discuss how they're using their platforms to make a positive impact on their communities. Tune in to hear about the ways in which content creators influence their audience to promote change, the ethical challenges they face, and tips for identifying content that reflects sincere beliefs versus content that prioritizes clicks.
Participants
---
Industry Track
From Exclusive to Inclusive: Building a More Equitable Creator Economy
Duration: 45 minutes
Location: 304ABC
Thursday, June 22
4:15 pm - 5:00 pm
Featuring: Angel Bellon, MissDarcei, juixxe and more
The creator economy might be replicating Hollywood's norms and its exclusionary culture – but that won't stop diverse creators from finding success in an industry that wasn't built with them in mind. As younger people drive the demand for diverse creator content, the influencer marketing industry is evolving from benefitting a select few to elevating every kind of creator. Brought to you by Paramount's Audience Impact & Intelligence team, this conversation with diverse creators will help marketers understand how to responsibly co-create a more equitable and inclusive creator economy.
Participants
---