Cost n' Mayor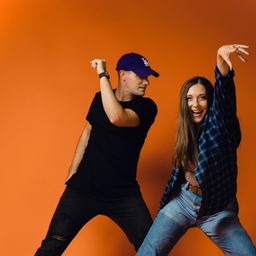 Austin Telenko & Marideth Batchelor popularly known as "Cost n' Mayor" are a lovable dance team whose routines are as synchronous as their couple-hood. East Coast transplants to Los Angeles, Cost n' Mayor's passion for life and love for each other radiates through their dancing and original choreography. The couple also draws inspiration from TV, animation, and other art forms to infuse goofy, comedic, characteristic flare into their unique and complex choreography. When they are not dancing, you can always find Cost n' Mayor exploring new foods, traveling, and spending quality time shopping for their new pad in Los Angeles.
Community Track
Bust a Move: A VidCon Dance Party
Duration: 30 minutes
Location: Festival Stage
Thursday, June 22
9:30 am - 10:00 am
Featuring: HappyKelli, Adam Rose, Cost n' Mayor
Kick off a weekend of fun with TikTok sensations Cost n' Mayor, Adam Rose and HappyKelli! What better way to start VidCon than to get your body movin' and groovin'?
Participants
---
Industry Track
Build, Buy, or Outsource? Product Development, Supply Chains & 3PL
Duration: 45 minutes
Location: 304ABC
Friday, June 23
3:50 pm - 4:35 pm
Featuring: Zach Ferraro, Sarah Chessis, Riley Stricklin and more
We are seeing a seismic shift in the commerce landscape as creators leverage their influence and audience to launch their own products. While the proliferation of ecommerce tools and platforms make starting a business easy, managing a vertically integrated supply chain can be complex and time consuming. This session explores the spectrum of possibility — from fully outsourced to deeply in-housed — and shares insight into the challenges and opportunities that come with each option.
Participants
---