The Herberts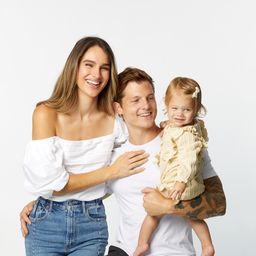 Social media savants, entrepreneurs, podcast hosts, and ultimate power couple Josh and Abbie Herbert have taken the digital world by storm through their engaging and humorous videos that have amassed millions of followers worldwide. Their steady rise across their TikTok, Instagram, and YouTube platforms have cemented them as a top couple to watch in the entertainment industry, with millions of loyal viewers and listeners tuning in daily for another quip, surprise, and peek into their everyday lives. Social media stardom was far from their minds leading up to the global COVID-19 pandemic. Josh was a successful musician headlining for major artists like The Chicks, front running at venues like Madison Square Garden, and with a prosperous solo music career consisting of highly sought-after EPs. Opposite was Abbie, who was in the midst of her modeling career, signing with modeling heavy hitters NEXT model management and Wilhemina and earning contracts with major commercial brands including File, Aerie, and Roxy. Fate would have it that the two would cross paths on the set of Josh's music video, where Abbie was selected to portray Josh's girlfriend. They had an immediate connection, and in the same way, their relationship began, supporting each other's careers later ended up being a glimpse into their future together as they grew to become life partners AND business partners. The pandemic had a huge impact on the couple with a loss of steady income from modeling and touring. Abbie directed her efforts into launching her own TikTok account and discovered that she could monetize a full-time career in online content creation. Her first video was published with Josh in March 2020 and fans appreciated their honest humor and relatability during such a dark period in time. Their content instantly reached virality, with the average viewership reaching a staggering ten million views and counting per video. In just two months, they built a loyal following of over one million followers, solidifying their status as a vanguard of early TikTok powerhouses. As their success on TikTok continued to climb, they expanded their reach to YouTube. When the official YouTube announcement was made that they were expecting their firstborn together (now a one-year-old daughter named Poppy, whom many of their fans lovingly know as "Poot"), the pregnancy reveal was the number-one trending video for two days straight on the platform, with fans rallying to celebrate the exciting news for their growing family. In total, the Herberts have amassed an astounding 20+ million followers across their platforms, which they acquired in an unprecedented two-year span. Josh and Abbie have parlayed their knack for creating exciting, resonating content into digital entrepreneurship, including co-hosting their own brand-new podcast titled "Who Wears the Pants" in partnership with Audioboom. Their podcast offers listeners a raw and detailed exploration of life on and off screen, parenthood, and personal successes and struggles as the two navigate the realm of entertainment. "Who Wears The Pants" is available for streaming on Apple Podcasts, Amazon Music, and Spotify. When Josh and Abbie are not creating content or recording episodes for their podcasts, they are actively brainstorming their next home renovation project for their dream home, preparing for their second baby (who they recently announced will be a boy), and spending time with their beloved daughter Poppy (aka Poot).
Community Track
Live Podcast: Who Wears the Pants
Duration: 1 hour
Location: The On Air Stage
Thursday, June 22
5:30 pm - 6:30 pm
What happens when an international model and touring musician settle down into the suburbs and experience life after a baby? Listen along with the hilariously relatable couple, Abbie & Josh Herbert as they trade bottle service for morning bottles, and sold out venues for Sesame Street performances. But life's not a drag for this family. They'll get candid about life on screen, becoming local celebrities, and spilling tea with their famous couple friends in games of who knows who better, and more!

Participants
---
Community Track
All in the Family
Duration: 1 hour
Location: Creative Lab Stage
Thursday, June 22
11:30 am - 12:30 pm
Featuring: Peet Montzingo, Hudson Matter, Jordan Matter and more
Find out what it's like making content with loved ones during this family-focused session. What are the pros and cons of having your kin as your coworkers? How does this dynamic shape these creators' content? Learn the answers to these questions and more!
Participants
---