Isaiah Garza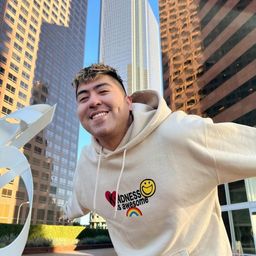 Isaiah Garza is a philanthropist, designer, and influencer from Los Angeles. Isaiah helps families in need and terminal kids' dreams come true in his videos. He has worked with celebrities Justin Bieber, Woody Harrelson, Cardi B, Rihanna, and Luka Doncic.
Community Track
Creating Communities
Duration: 1 hour
Location: Discover Stage Presented by Wondershare
Thursday, June 22
10:00 am - 11:00 am
Featuring: Eret, David Suh, spencewuah and more
The internet has given us more than just a place to consume content. Now more than ever, we can connect with others who share our interests, passions, and views. These dynamic creators will have an uplifting discussion about how they've used the things that make them unique to create communities that provide welcoming, safe spaces for their fans.
Participants
---
Community Track
Night of Impact
Duration: 1 hour 30 minutes
Location: Arena
Thursday, June 22
6:30 pm - 8:00 pm
Featuring: PENG PENG, Alicia Mccarvell, Angry Reactions and more
What we create and how we create matters, impacting everything around us in visible and invisible ways. Performances will showcase the ways creators are mindful participants in the cultural ecosystem. Come together for a collective group hug with your favorite creators to celebrate community, invention, and love for ourselves, our communities, and planet Earth.
Participants
---