Colin and Samir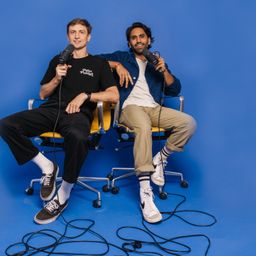 Colin Rosenblum and Samir Chaudry are creators and co-hosts of the Colin and Samir Show. Through interviews with the biggest creators on YouTube, industry analysis, and creator economy news, they're building a roadmap for the next generation of creative entrepreneurs. They've collaborated with top creators including MrBeast, Mark Rober, Michelle Khare, Hasan Minhaj, Marques Brownlee, Karl Jacobs, and more. Colin and Samir have been building YouTube channels and communities since 2011 and all their work aims to educate, empower, and inspire creators.
Creator Track
Live Podcast: Creator Support with Colin and Samir
Duration: 1 hour
Location: Room 202
Friday, June 23
10:00 am - 11:00 am
Featuring: Colin and Samir
Join award-winning branded content producers and filmmakers Colin and Samir for this live episode of Creator Support! Get the answers to your most pressing questions about the business of being a creator, growing an audience, and making money on YouTube.
Participants
---
Industry Track
State of the Creator Economy
Duration: 25 minutes
Location: Industry Track Mainstage
Thursday, June 22
10:00 am - 10:25 am
Featuring: Joshua Cohen, Colin and Samir
Join three of the industry's most forward-looking leaders to kick off VidCon 2023 with this "state of the creator economy" conversation. They'll delve into the complex, rapidly-evolving landscape, examine key players that make up the creator economy, and explore the changing dynamics between them. What unique challenges and opportunities exist in today's landscape? How can industry stakeholders prepare for the future and ultimately thrive in this dynamic ecosystem? This deep dive provides a comprehensive outlook for the next 6, 12, and 18 months.
Participants
---
Industry Track
YouTube Industry Keynote
Duration: 1 hour
Location: Industry Track Mainstage
Thursday, June 22
3:30 pm - 4:30 pm
Featuring: Amjad Hanif, Larray, Colin and Samir and more
Join YouTube's Vice President of Product Management, Amjad Hanif, as he discusses YouTube and the creator landscape with some of today's top breakthrough creators.
Participants
---