Keke Palmer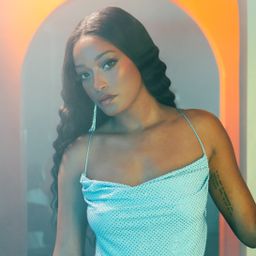 KEKE PALMER is an Emmy award-winning actress, singer/songwriter, host, producer, author, and passionate voice of the millennial generation. She was honored with a 2021 Primetime Emmy Award for her portrayal of the five Taylor family members in her own series, Turnt Up with the Taylors, based on the original characters who rose to popularity on her social media. Palmer rose to prominence through her breakout role in Akeelah and the Bee at age 12 starring opposite Angela Bassett and Lawrence Fishburne and has gone on to star in over 25 films and 30 TV shows, including Jordan Peele's Nope, which was released to massive critical and popular acclaim. Most recently, Keke launched her own digital network, KeyTV, dedicated to spotlighting a new generation of diverse creators and democratizing the entertainment industry. For KeyTV she has written, produced and/or starred in various scripted and unscripted original content including her directorial debut, the short film Big Boss, which will be accompanied by an album of the same title to be released in May 2023.
Industry Track
Big Boss Mentality: The Culture-Defining Power of Ownership, Creativity, and Self-Expression
Thursday, June 22
2:00 pm - 2:35 pm
Featuring: Keke Palmer, CT Jones
With Keke Palmer having recently released her latest project, Big Boss, written and directed by her, let's dive into what the "Big Boss" mentality is and what it means for Keke? What does being a boss look like today – keeping in mind the different identities, priorities, etc. that make up her world? What does choosing yourself look like and how does Keke do it? How do you affirm yourself and your business as a creator at the same time? How does you ensure that mentality is threaded throughout all of your work? In this marquee conversation Keke shares insight into her journey, her platform, Key TV, and her vision for the future.

Participants
---