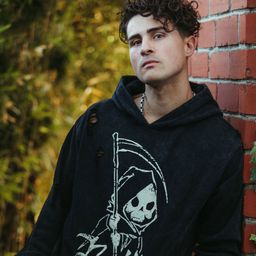 Anthony Padilla is a comedian, content creator, host, and founder of Pressalike Productions. Best known for his satirical comedy and in-depth interviews, Padilla is considered one of the internet's earliest success stories. His current self-produced series "I Spent A Day With…" features interviews with members of marginalized groups and prominent public figures alike and has generated hundreds of millions of views. Padilla also co-founded the media company SMOSH in 2002. During his decade-long tenure as founder and star, the comedy empire garnered 25M+ subscribers on YouTube, released two feature films in partnership with Lionsgate & YouTube Red, and created over ten short-form scripted shows.
Community Track
Live Podcast: I Spent a Day With…
Duration: 1 hour
Location: Discover Stage Presented by Wondershare
Saturday, June 24
1:00 pm - 2:00 pm
Featuring: Anthony Padilla
Anthony Padilla took his popular YouTube series "I Spent a Day With..." and brought it to the podcast world, sitting down with a range of guests to discover the truth about often misunderstood and misrepresented groups of people and the human condition. Now, he's bringing the popular series to VidCon! Tune in for this exciting live episode!
Participants
---
Creator Track
How to Maximize Your Earning Potential on YouTube
Duration: 1 hour
Location: Room 204
Friday, June 23
10:00 am - 11:00 am
Featuring: Thomas Kim (TK), Andrew Leonard, Emily D. Baker and more
The YouTube Partner Program is evolving with lower eligibility requirements for fan funding and shopping monetization tools, and more ways to qualify and earn through Shorts. This creator panel will provide best practices for becoming a YouTube Partner and dive deep into creator stories of building careers on the platform.
Participants
---