SMOSH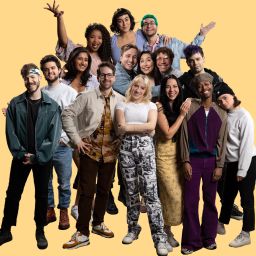 Amanda Lehan-Canto is currently a Sunday Company Alumni at The Groundlings Theater. She has been a writer and creator for WhoHaHa and Funny or Die. You can also see her as a regular cast member in the YouTube channel, Smosh, and also as the commercial host for Amazon Alexa. She is currently performing her solo show, Keep it Together, Woman! right here in Los Angeles.
Courtney Miller (@co_mill) is an actor, writer, director, and host for Smosh. She's been with the brand since her first appearance in 2015 and she's been a powerful force in comedy all the way back to Vine in 2013. Well-known for being a positive influence on the modern youth, embracing flaws, and wearing her heart on her sleeve, she's your best friend, whether you like it or not.
Damien Haas (@damienhaas) is part of the main cast of the Smosh and Smosh Games channels, doing sketch comedy and reality-based gaming content. Damien has been with the brand since 2017 and also acts as a voice actor and has done work with Cartoon Network and various video games, such as Halo and Fortnite. In his spare time, he is a partner on Twitch, streaming several nights a week for a very loyal audience.
Ian Hecox is an internet personality, actor, comedian, writer, producer, and director, best known as co-founder and president of Smosh, one of the most storied and leading comedy brands with over 43 million subscribers across its YouTube channels Smosh, Smosh Pit, Smosh Games, and El Smosh. Since creating Smosh in 2005 with childhood friend Anthony Padilla, Hecox has helmed many of the brand's popular endeavors, including two feature-length films and several scripted series, and in 2019, Smosh became a subsidiary of Rhett & Link's Mythical Entertainment. In addition to being on-screen talent and a creator for Smosh, Hecox has continued to breathe new life into the Smosh brand within his role as president. At its core, Smosh is a group of tight-knit comedians from all walks of life and comedic backgrounds who love to make each other — and their incredible fanbase — laugh every single day.
Jacklyn Uweh (she/her) is an LA-based actor, writer, and director. Born and raised in Stockton, California, Jacklyn started her performance career appearing in local community theater productions. While studying at UC Irvine, she earned her B.A. in Film & Media and Drama. Simultaneously she found her comedic voice as a founding member of UCI's premiere sketch ensemble, The Soulstice League. Jacklyn continued to hone her skills by training with The Second City, The Groundlings, and UCB. A performer at heart, Jacklyn's stage credits include Hairspray (Chance Theater), Striking 12 (Chance Theater), The Second City Touring Company, and the 2020 CBS Showcase. After appearing in numerous sketch revues, she successfully mounted her one-woman show I Dreamed a Dream. Most recently, she's appeared in national commercials for McDonald's, Plenity, and Cricket Wireless, and lent her voice to the world of Paladins and Wondery Media. She can regularly be seen on camera across Smosh YouTube channels and on stage with her improv team, Yes Ampersand. In addition to performing, Jacklyn has amassed over 10,000 hours in leadership training and proudly serves as a Leadership Coach for the California Association of Student Leaders (CASL). As a coach, she provides curriculum to students and schools across California primarily focused on communication, purpose, vulnerability, and inclusion.
IG/TW: @jacklyn_uweh
Represented by: Haven (Management), CESD (Commercial), DPT (VO)
Originally hailing from Ohio, Keith Leak Jr. (@keithleakjr) made a name for himself as a former Vine star in 2015. Since then, Keith continues to entertain his audience with his comedy as well as his on screen work as a member of Smosh, one of the most watched comedy channels on YouTube.
Kimmy Jimenez is a Spanish-Filipina actress, writer, and producer from Orange County, CA. She is best known for being a series regular on Smosh (2020), starring opposite Nic Cage in Looking Glass (2018), and The Big O (2018). Her work, both in front of and behind the camera, has been featured in numerous festivals. She is also an accomplished soccer player, having played competitively for over a decade, and has been featured in various soccer campaigns for global brands including Nike and Adidas.
Noah Grossman (@Noahgrossman214) is a comedian, actor, writer, host, and content creator. Noah is most known as a member of Smosh. He can be seen in over 100 sketches, including many of your favorite "Every ____ Ever" episodes and the Streamy nominated "Put It In My Mouth" show. Acting credits include Nick Studio 10, Trophy Wife, You Gotta See This, and Summerland.
Hey y'all, I'm a Nashville-born comedian and actor and an alumni of Northwestern University, The Second City Chicago, and Upright Citizens Brigade. I'm currently performing across the country with Baby Wants Candy, Sassy Bluff, and Shamilton. You can find me across all socials at @PhatChanse.
Shayne Topp is an actor and internet personality. He got his start on Disney Channel's So Random, and has since gone on to join the cast of the massive YouTube sketch channel Smosh, as well as recurring on ABC's The Goldbergs.
Community Track
Try Not to Laugh with Smosh
Duration: 1 hour
Location: Discover Stage Presented by Wondershare
Saturday, June 24
4:00 pm - 5:00 pm
A fan favorite, Try Not to Laugh, is Smosh's ultimate comedic challenge — doing whatever it takes to get the person in the hotseat to laugh while they try their best not to. Followed by a Q&A!
Participants
---