Rebecca Zamolo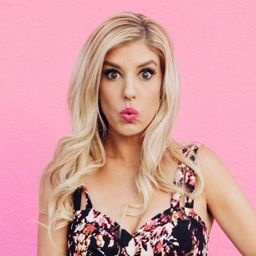 Rebecca Zamolo is a YouTube superstar, actress, activist, and all-round entrepreneur. She has over 43 million combined followers across platforms and over 6.9 billion views on YouTube. She is most well known for her family-friendly content which includes videos ranging from family challenges, to DIYs, and 24-hour challenges. Her immensely popular YouTube series, "The Game Master", is described as a real-life escape room meets Amazing Race.
Industry Track
Formalizing the Back-of-Camera Ecosystem
Duration: 40 minutes
Location: Ballroom D
Friday, June 23
3:20 pm - 4:00 pm
Featuring: Sierra Schultzzie, Rebecca Zamolo, Devin Robbins and more
We recognize the people in front of the camera or mic, but pull back the curtain and it's clear a host of talented individuals are helping to create the content we see, hear, and stream. While having access to editors, copywriters, producers, graphic designers, and more is a critical piece of scaling a creator's brand, it can also be a cumbersome process. This session explores how formalizing this BOC ecosystem might ease the burden associated with discovering, evaluating, contracting, and ensuring delivery of creative services.
Participants
---
Community Track
Dueling Duos
Duration: 30 minutes
Location: Festival Stage
Thursday, June 22
12:30 pm - 1:00 pm
Featuring: Evan and Katelyn, Veronica Merrell, Aaron Burriss and more
Watch some of your favorite creator couples go head-to-head in this classic Newlywed Game. Contestants will answer questions to reveal which duo knows each other best — come cheer them on and see who comes out on top!
Participants
---