Lewberger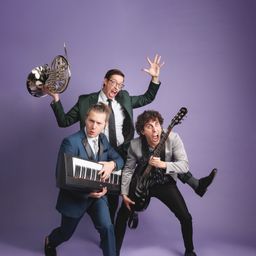 Alex Lewis is a member of the hit comedy band Lewberger. With Lewberger he's performed on America's Got Talent, NBC's Bring The Funny, and all over America in theaters, clubs, and phone screens alike. As an actor you may recognize him from the Lincoln Lawyer, Dexter, Valley Girl and so much more.
Hughie Stone Fish is a songwriter, performer, non-profit co-founder, and entrepreneur based out of Los Angeles. Hughie won the Emmy for Outstanding Original Song for his work writing and rapping on a song with Jason Alexander about the history of antisemitism through cartoons. The Arts Project Syracuse is Hughie's 501c3 he co-founded with his brother and another Syracusean, bringing arts education to under-resourced youth in their hometown of Syracuse, New York. Hughie's comedy band Lewberger performed as finalists on the hit NBC comedy competition show Bring the Funny, got a standing ovation on America's Got Talent, have gone on national tours, and are putting up their musical Wizard of Friendship off-Broadway in March 2023. Sunlight & Stars, Hughie's debut solo album, will be dropping in 2023.
Keith Habersberger is a member of comedy music group Lewberger and one of the Try Guys. He is best known for eating a lot of food in front of a camera.