KREW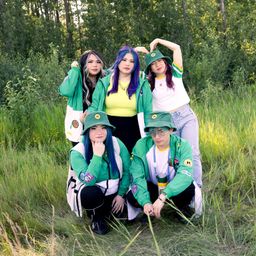 KREW is a Canadian-based YouTube group consisting of five members: Rainbow, Gold, Funneh, Lunar, and Draco. Primarily known for their gaming videos, they have amassed over 11 billion views and collectively reached over 16 million subscribers to date. Their video content style is upbeat and light-hearted. They often focus on creating positive and fun experiences for their community known as KF. Following their efforts, they have successfully launched their own clothing line KREW DISTRICT and app game KREW EATS.
Community Track
Night of Impact
Duration: 1 hour 30 minutes
Location: Arena
Thursday, June 22
6:30 pm - 8:00 pm
Featuring: PENG PENG, Alicia Mccarvell, Zach and Pat Valentine (Valentine Brothers) and more
What we create and how we create matters, impacting everything around us in visible and invisible ways. Performances will showcase the ways creators are mindful participants in the cultural ecosystem. Come together for a collective group hug with your favorite creators to celebrate community, invention, and love for ourselves, our communities, and planet Earth.
Participants
---
Community Track
Kickin' It with KREW
Duration: 1 hour
Location: Trending Stage presented by Ruby Gillman, Teenage Kraken
Friday, June 23
4:00 pm - 5:00 pm
Join one of the biggest gaming groups as they gather to answer your questions, discuss creating content as a family, and lead the audience in some interactive activities!
Participants
---