Ashley Yi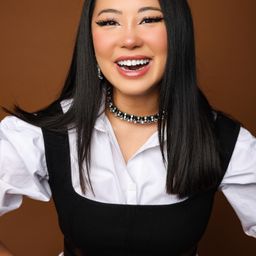 Ashley Yi is a super gregarious Korean foodie, mukbang enthusiast, and lifestyle creator based in LA. She's known for her huge personality, hilarious mukbangs, and inspirational car talks.
Community Track
Fun with Food
Duration: 1 hour
Location: Spotlight Stage
Saturday, June 24
11:30 am - 12:30 pm
Featuring: Keith Lee, Ashley Yi, TheRealTati and more
These creators have sautéed, sizzled, and seared their way to success. Tune in to hear them describe the joy they find in making food content. Plus, find out how sharing their passion for tasty treats has allowed them to connect with their audience in a unique way.
Participants
---
Community Track
Night of Awesome
Duration: 2 hours
Location: Arena
Saturday, June 24
5:30 pm - 7:30 pm
Featuring: Lauren Ashley Beck, Michelle Khare, Lewberger and more
The night of all the things you love about VidCon. Witness the weird, the wonderful, and the just plain outrageous in this night full of laughs, music, and big reveals with your favorite creators. Join us at the VidCon Arena Stage Saturday evening for a grand finale of VidCon 2023 you won't want to miss!
Participants
---