Sheena Melwani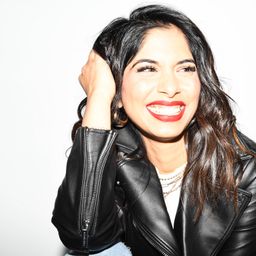 Sheena Melwani brought her contagious laughter and angelic voice to TikTok in April 2020. You've heard both in her videos, including the hilarious "Interrupted Series" (where she sings at the piano and TheRealIndianDad interrupts), which have garnered over 1.5 billion views on TikTok alone. Sheena's YouTube channel is the home of her weekly long-form shows, "Asinine Advice" and "Chaos in the Kitchen," which along with her popular YT Shorts, have amassed over 850 million views in the past two years. Jokes aside, Sheena released her first EP "Find Your Happy" in the fall of 2022, which has garnered over 125,000 streams since release. Sheena's space provides a unique marriage of humor, music, and positivity, which has been very well received during these interesting times; particularly from her female fans, who are also inspired by Sheena's story: that of a talented digital artist who refused to give up on her ambitions in life, even after a 10-year pause mandated by the needs of a young family.
Community Track
Please Don't Stop the Music
Duration: 1 hour
Location: Creative Lab Stage
Friday, June 23
11:30 am - 12:30 pm
Featuring: Kyle Exum, Bryce Xavier, Sheena Melwani and more
Behind every viral dance video and trending song, there is a musician embracing the power of social platforms to spread their art and find their audience. In this session, tune in to hear how your favorite musical creators carved out a space for themselves not only on the internet, but in the world of music as a whole.
Participants
---
Community Track
My Culture, My Comedy
Duration: 1 hour
Location: Creative Lab Stage
Saturday, June 24
2:30 pm - 3:30 pm
Featuring: Jeenie Weenie, Sheena Melwani, Jesus Nalgas and more
These comedic creators have built their loyal following by incorporating their culture into their art. Listen in as they unpack how being relatable, authentic, and embracing what makes them unique has helped shape their successful careers.
Participants
---