Cooking with Lynja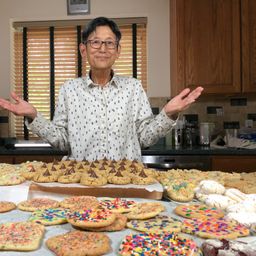 When the pandemic hit the US in March 2020 and we were in lockdown, Lynn's son, Tim, who is a videographer, wanted to keep his skills fresh so he decided to make 30 videos in 30 days. He filmed Lynn and his father doing daily chores such as walking the dog, pruning bushes, filling the bird feeder, and me making meals. Tim posted these videos on YouTube but their subscribers were friends and family. The lockdown lasted longer and Tim decided to continue making videos but it was easier to do cooking videos as they had a quiet and standard "set." They continued to produce a video every other day. Tim started posting on TikTok around June 2020. He went to Washington, DC the weekend of July 4th and he called Lynn and told her that their "bacon, egg & cheese" video had 13,000 views. Lynn thought he was joking and jokingly accused him of having one of his college friends hack into TikTok and boost the views. But the rest is history. Lynn and Tim are thankful for all their fans!
Community Track
Bringing Joy to the World Wide Web
Duration: 1 hour
Location: Amplify Stage
Friday, June 23
10:00 am - 11:00 am
Featuring: OldGays, Cooking with Lynja, Mamatot and more
Whether dancing, cooking, or just sharing a personal anecdote, these creators are spreading joy across the internet every day and uniting fans from all corners of the globe. Come listen to them discuss what fills them with happiness, and how they work to integrate that feeling into their content.
Participants
---
Creator Track
Creator to Creator - Cooking with Lynja and Jordan Matter
Duration: 1 hour
Location: Room 207
Saturday, June 24
1:00 pm - 2:00 pm
Featuring: Cooking with Lynja, Jordan Matter
Join top creators Lynn Davis and Jordan Matter as they have a candid conversation about their paths to creating and expressing themselves online.
Participants
---