Christy Carlson Romano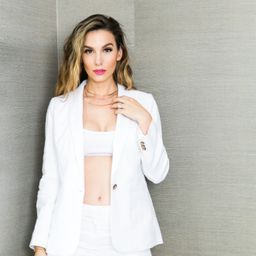 Christy Carlson Romano is an actress, singer, foodie, host, and podcaster. She's one of Disney Channel's original household-name brands, starring in Even Stevens, Cadet Kelly, and attaining an Emmy nomination for her animated series, Kim Possible, who became an icon for girl-power. She played Belle in Disney's Beauty and the Beast on Broadway and also starred in Avenue Q on Broadway. Christy released a Greatest Disney Hits Album with Walt Disney Records, wrote and sang tracks for the Princess Diaries franchise, and went on to be signed by Atlantic Records. She graduated from Columbia University with a degree in Film Studies. Romano recently hosted the hit YouTube series Christy's Kitchen Throwback which has a series-inspired cookbook hitting shelves in 2023. She also recently hosted Hulu and Fox's first ever short-form cooking series, Bucket List Bistro. Christy has a memoir in development with Simon & Schuster and she recently launched two podcasts, Vulnerable with A-Cast and I Hear Voices (co-hosted by Boy Meets World's Will Friedle), with iHeart Media. Christy's highly talked about YouTube channel features authentic content with over 30M views. Christy currently resides with her husband, Brendan Rooney and their two daughters, Isabella and Sophia in Austin, Texas.
Community Track
Live Podcast: Vulnerable with Christy Carlson Romano
Duration: 1 hour
Location: The On Air Stage
Thursday, June 22
1:00 pm - 2:00 pm
Everyone thinks Christy Carlson Romano had a storybook career. That she just sprang into Disney Channel stardom overnight, made millions, and lived happily after. Spoiler alert, she didn't! There were countless failures along the way and there still are. The Vulnerable Podcast is an invitation to hang out with Christy for an in-depth conversation discussing the good, the complicated, the beauty of being human, and what it means to be vulnerable.
Participants
---
Community Track
Surviving the Spotlight
Duration: 1 hour
Location: Amplify Stage
Thursday, June 22
4:00 pm - 5:00 pm
Featuring: Christy Carlson Romano, Alyson Stoner, Kira Kosarin and more
It's no secret that childhood stardom can be a heavy burden to bear. While celebrities may appear to lead luxurious lives, the pressure, criticism, and lack of privacy can be overwhelming, particularly for a young person. In this session, creators will reflect on their time in the spotlight and their experiences navigating adulthood.
Participants
---