GiaNina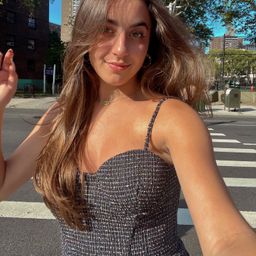 GiaNina is a multi-faceted performer with her resume ranging from Broadway to television to performing with major artists and now her budding singing career. Dance has always been her primary passion and that continues to grow as she turns 18. Creating content has become a passion for GiaNina and showing her world on social media has become the norm.
Community Track
Balancing Act
Duration: 1 hour
Location: Creative Lab Stage
Saturday, June 24
10:00 am - 11:00 am
Featuring: Sierra Schultzzie, Leo González, Chrissy Marshall and more
Like any other full-time job, it's important to cultivate a sense of work-life balance as a content creator. But it can be difficult to find this balance when your work is not confined within office walls or specific hours. In this panel, creators will talk through the importance of developing healthy habits focused on preventing burnout and maintaining an overall sense of well being.
Participants
---
Community Track
Look Mom, I'm on TV!
Duration: 1 hour
Location: The On Air Stage
Saturday, June 24
2:30 pm - 3:30 pm
Featuring: Adam Rose, GiaNina, Savanah Moss and more
These creators have taken their talents from phone screen to silver screen! Tune in to learn about their experiences starring in TV and movies, hear stories from the various sets they've worked on, and find out what it's like to branch out into traditional media.
Participants
---