MatPat and Steph
CEO & COO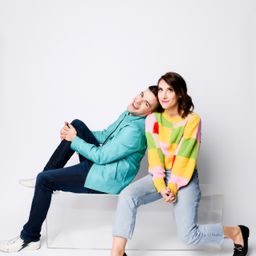 Matthew Patrick, aka MatPat, and Stephanie Patrick are the nerdiest couple on YouTube, co-creating and operating the Theorist YouTube properties The Game Theorists; The Film Theorists; GTLive, YouTube's largest livestreaming channel; The Food Theorists, which gained 1 million subscribers within the week of its launch; and The Style Theorists. Currently at 38 million subscribers and 120 million monthly views, The Theorists are the mythbusters for gamers, cinephiles, foodies, and fashionistas, educating viewers while unearthing secrets behind gaming, food, fashion, film, and television's most enduring questions. MatPat is also the creator and host of Game Lab, a YouTube Premium Original series that takes YouTube's biggest gamers off the comfort of their couches and places them into the real life equivalent of their favorite games. The series won the Streamy for Best VR/360 Series in 2016.
Matthew and Stephanie are also marketing and audience development specialists, consulting some of the biggest tech and media brands in the world, as well as fellow creators on how to capture and grow an audience online through data-driven decision-making. Over the past several years, Theorist has worked with over 200 YouTube channels across practically every vertical.
Community Track
The Power of Gaming Communities on YouTube
Duration: 1 hour
Location: Trending Stage presented by Ruby Gillman, Teenage Kraken
Thursday, June 22
10:00 am - 11:00 am
Featuring: Leo Olebe, Ludwig, DrLupo and more
Over 2 trillion views and 120 billion hours of gaming content watched across the world last year – the power of the Gaming community on YouTube is undeniable. Join our new Head of Gaming and YouTube Gaming Creators to talk about the magical world of Gaming on YouTube.
Leo Olebe (YouTube's Global Head of Gaming) with a cast of gaming creators
Participants
---
Industry Track
Mergers & Acquisitions: The Corporate Creator Conundrum
Duration: 25 minutes
Location: Industry Track Mainstage
Thursday, June 22
12:00 pm - 12:25 pm
Featuring: MatPat and Steph, Lucas Kollmann, Drew Baldwin
Join Theorist Media's founders Stephanie and Matthew Patrick (MatPat) as they sit down with Lunar X Co-Founder & CEO Lucas Kollmann to explore an important inflection point in today's creator economy — how creator-driven companies can scale while also maintaining their creative voices and close connection to the communities that built them. With the sale of Theorist Media to Lunar X in late 2022, they will delve into the power an acquisition with the right partner has provided for their business, shedding light on the way forward for creators and their communities.
Participants
---
Community Track
The Real OGs
Duration: 1 hour
Location: Spotlight Stage
Friday, June 23
10:00 am - 11:00 am
Featuring: John Green, MatPat and Steph, Leenda Dong
These digital content pioneers have seen it all — the trends, the challenges, the birth, death, and reinvention of numerous platforms. And through it all, they've maintained their spotlight and a special place in the hearts of countless fans. They're here to talk about their successful careers and how they've adapted to the constantly-evolving state of the digital world.
Participants
---
Creator Track
Creator to Creator - Safiya Nygaard and Tyler Williams with MatPat and Steph
Duration: 1 hour
Location: Room 204
Friday, June 23
11:30 am - 12:30 pm
Featuring: Safiya Nygaard, Tyler Williams, MatPat and Steph
These iconic duos are doing it all — from expanding their brands and businesses to consistently uploading entertaining and engaging content. Tune in as they discuss their paths to success, share their strategies, and reveal how they maintain their position at the top of the creator economy.
Participants
---
Community Track
Get Smart
Duration: 1 hour
Location: Spotlight Stage
Friday, June 23
4:00 pm - 5:00 pm
Featuring: sidneyraz, Renegade Science Teacher, The Truth Doctor and more
At the intersection of entertainment and education, these creators aim to teach you something new with almost every upload! Join these brilliant minds as they break down the process of delivering lessons that make us a little smarter every day.
Participants
---