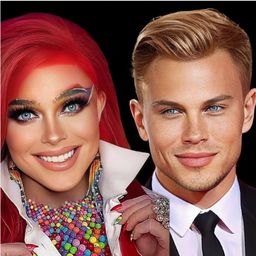 Christopher Danley, better known as Ginger Ladd, is a full-time New York City based entertainer, host, comedian, show producer, and founder of Drag Queens and Kings Entertainment, and Ladd Beauty. Their clients include Hard Rock Cafe International, City Winery, Meliá Hotels International, and Fox Entertainment. They have been featured in multiple media outlets including USA Today, the Yahoo!/AOL documentary series, 'In The Know', and Vox Media's, Now This News speaking out against bills banning transgender and drag entertainment in the United States.

Ginger volunteers as an ambassador with Drag Out The Vote, a nonpartisan, nonprofit organization that works to promote participation in democracy. Currently in Season 3, their TikTok Live Podcast "Dear Ginger Ladd," tackles topics as diverse as sexual health, religion, politics, beauty, parenting, and more. Most importantly, Ginger Ladd is a husband of 17 years to their Navy Combat Veteran husband, and a father to two biracial sons from the NYC foster to adopt program. Their family and professional motto is to lead with love, joy, and gratitude and to serve others with compassion, positivity, and humility.
Ginger is honored to be a speaker for TikTok's panel at VidCon Anaheim 2023.
Creator Track
How to Turn Likes into Buys as a TikTok Shop Creator
Duration: 45 minutes
Location: Room 211AB
Friday, June 23
11:00 am - 11:45 am
Featuring: Sylvie Esmundo, Ginger Ladd, Josh Nasar and more
Sponsored. Join top e-commerce creators in this session sponsored by TikTok Shop for a discussion on creating successful partnerships and campaigns that benefit both creators and brands. Learn how to create engaging content, negotiate partnerships, and measure campaign success on the platform.
Participants
---