Kyle Exum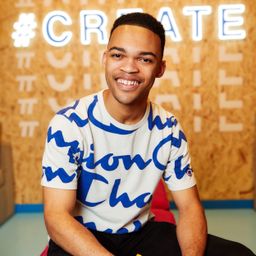 Kyle Exum is a YouTuber, artist, and author. With his start from Vine in 2015, Kyle is well known for his various relatable and conceptual skits and songs. Since his first YouTube video, "The Mom Rap", Kyle has continued to create comedy skits, like his well-known "When Our Generation Gets Old and Hears a Throwback Song" series. He also creates viral-styled music, ranging from his latest song "The Kahoot Rap" to songs like "Bassthoven", a modern-age twist on "Fur Elise" (currently sitting at over 50,000,000 streams). He's an author, with his book "Trap 3 Little Pigs" hitting number one on the Amazon Children's Books charts, which is complemented by a song and a skit on YouTube. These creations have earned Kyle over 13 million followers across social media networks to date.
Community Track
Please Don't Stop the Music
Duration: 1 hour
Location: Creative Lab Stage
Friday, June 23
11:30 am - 12:30 pm
Featuring: Kyle Exum, Bryce Xavier, Sheena Melwani and more
Behind every viral dance video and trending song, there is a musician embracing the power of social platforms to spread their art and find their audience. In this session, tune in to hear how your favorite musical creators carved out a space for themselves not only on the internet, but in the world of music as a whole.
Participants
---
Community Track
Festival Dance Party: It Was Never A Phase, Mom!
Duration: 2 hours 30 minutes
Location: Festival Stage
Friday, June 23
7:00 pm - 9:30 pm
Featuring: Kyle Exum, Dtay Known, Lala Sadii and more
Pour your heart out on the dance floor at VidCon's Emo themed dance party. Wear your angst on your band t-shirt sleeve as you dance like there's no tomorrow in skinny jeans, studded belts, and of course, black eyeliner.
Participants
---