The Trills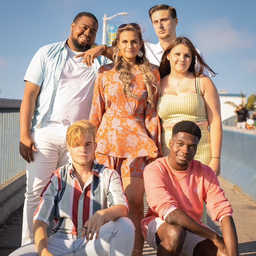 The Trills are a Baltimore-based a cappella group founded in 2015 at Towson University. The group is composed of six unique vocalists: Kathryn Marie (Soprano), Missy Melkonian (Alto), William Damanka Jr (Tenor), Nick Zuelsdorf (Baritone), Leroy Hyson II (Bass), and Aaron Bayne (Beatbox). When most of the group graduated in 2019, The Trills left Towson University and decided to pursue music professionally. The Trills have since gained global attention, largely thanks to their viral TikTok videos which feature songs like "Wellerman," "Electric Love," "Overwhelmed," "From Now On," "We Don't Talk About Bruno" and more. The Trills have amassed over 3.7 million social media followers, 20 million YouTube views, and over 600,000 streams on Spotify.
Community Track
Crown the Creators: A Trill Off
Duration: 1 hour
Location: Room 339-342
Sunday, October 1
11:30 am - 12:30 pm
Featuring: The Trills, Jesse Concepcion (@SupItsJesse)
Watch The Trills battle it out in this competition of memorization and musical brilliance! Find out whose brain contains the most lyrics as we play music and they attempt to fill in the blanks. The music will start, but can they keep it going?
Participants
---
Community Track
Hometown Pride: VidCon Baltimore Closing Show
Duration: 45 minutes
Location: Community Mainstage - Hall F
Sunday, October 1
5:30 pm - 6:15 pm
Featuring: Kaelyn Kastle, MegaGoneFree, Slice N Rice and more
You won't want to miss the grand finale of VidCon Baltimore! Tune in for show-stopping performances by creators repping their hometowns of Baltimore and beyond!
Participants
---