Kyle Exum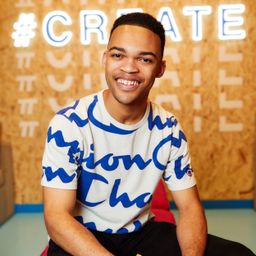 Kyle Exum is a YouTuber, Artist and Author. With his start from Vine in 2015, Kyle is well known for his various relatable and conceptual skits and songs. Since his first YouTube video, "The Mom Rap", Kyle has continued to create comedy skits, like his well-known "When Our Generation Gets Old and Hears a Throwback Song" series. He also creates viral-styled music, ranging from his latest song "The Kahoot Rap" to songs like "Bassthoven", a modern aged twist on Fur Elise (currently sitting at over 50,000,000 streams). He's an author, with his book "Trap 3 Little Pigs" hitting number 1 on the Amazon Children's Books charts, which is complimented by a song and a skit on YouTube. These creations have earned Kyle over 13 Million followers across social media networks to date.
Industry Track
The Business of Being a Creator
Duration: 40 minutes
Location: Room 331/332
Friday, September 29
9:50 am - 10:30 am
Featuring: Eric Wei (@trykarat), Anthpo, Tejas Hullur and more
Being a successful creator means learning how to scale beyond initial success on one channel to building a brand across multiple platforms, types of content, and monetization channels. How do today's top creators manage this transition and grow into businesses? What best practices can they recommend when it comes to hiring, diversification, tracking finances, and more?
Participants
---
Community Track
Doing Numbers, My Music Went Viral!
Duration: 1 hour
Location: Room 339-342
Saturday, September 30
11:30 am - 12:30 pm
Featuring: Kyle Exum, Brooklyn Queen, Shiadanni and more
Musicians are embracing the power of social platforms to spread their art and find their audience. In this session, tune in to hear how your favorite musical creators carved out a space for themselves not only on the internet, but in the world of music as a whole.
Participants
---
Community Track
VidCon Evening Show: "Yes, and..."
Duration: 1 hour 30 minutes
Location: Community Mainstage - Hall F
Saturday, September 30
6:30 pm - 8:00 pm
Featuring: Basement Gang (Kadeem), Basement Gang (Nate James), Basement Gang (Nick) and more
Saturday culminates in a high energy variety show with performances from your favorite creators. Music, dance, comedy and...well, you'll just have to be there to find out.
Participants
---
Community Track
Off the Dome: Rhyming Improv
Duration: 1 hour
Location: Room 339-342
Sunday, October 1
5:30 pm - 6:30 pm
Featuring: Baby Simba, Howieazy, Kyle Exum and more
Lowkey we all got bars! Creators will be put on the spot, throwing one-liners back and forth trying to stump each other on random topics. Will it make sense? Probably not. But the rhymes will be top tier!
Participants
---