Nicolas Roman (@xtheromanempire)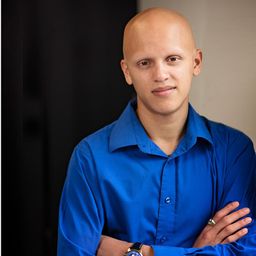 Nicolas Roman is a comedian, best-selling author, content creator, and entrepreneur. He has alopecia, an autoimmune condition that caused him to lose all of his hair. After hiding behind a wig for several years, he decided to be confident in– instead of ashamed of– his alopecia. He is now a confidence coach to over 500 people with alopecia through The Naked Confidence Campaign. He harnessed his confidence and sense of humor to amass over 10,000,000 followers in total across TikTok, YouTube, Instagram, Snapchat, and Facebook.. He wrote about his journey in the Amazon International Best-seller You Can Overcome Anything Volume 4: When You Walk with Certainty. Nicolas has also been featured on Jada Pinkett Smith's, Red Table Talk, ESPN, LADBible, and JungleCreations.
Industry Track
No BS: What Creators Wish Brands Understood about Authenticity, Community & Connection
Duration: 40 minutes
Location: Room 337/338
Friday, September 29
3:55 pm - 4:35 pm
Featuring: Nicolas Roman (@xtheromanempire), Molly Burke, Lori Wheeler and more
A panel of established creators share their perspectives on what it means to truly connect with fans and get candid about how brands can best partner with them in real and substantive ways. What does an optimal partnership look like? How can marketers provide support and insight, while relinquishing creative control? Find out in this honest, no BS conversation.
Participants
---
Community Track
Beyond Barriers: Promoting Inclusivity through Awareness
Duration: 1 hour
Location: Room 337/338
Sunday, October 1
11:30 am - 12:30 pm
Featuring: Molly Burke, Nicolas Roman (@xtheromanempire), Imani Barbarin (Crutches And Spice) and more
This panel showcases the transformative impact content creators have on disability awareness. Learn how these influencers are using their platforms to destigmatize hidden disabilities, initiate crucial conversations within their communities, and promote a more inclusive society that embraces the experiences of all individuals.
Participants
---
Community Track
Creator to Creator: Nicolas Roman & Horchata Soto
Duration: 1 hour
Location: Room 336
Sunday, October 1
5:30 pm - 6:30 pm
Featuring: Horchata Soto, Nicolas Roman (@xtheromanempire)
These iconic duos are doing it all — from expanding their brands and businesses to consistently uploading entertaining and engaging content. Tune in as they discuss their paths to success, share their strategies, and reveal how they maintain their position at the top of the creator economy (and their fans' feeds).
Participants
---