Hannah Williams (Salary Transparent Street)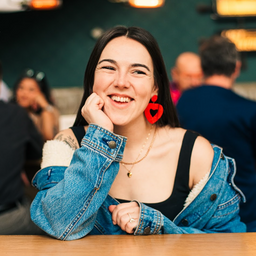 Hannah Williams is a Gen Z content creator in the Washington, D.C. area tackling a major issue: salary transparency. With her viral series, Hannah encourages strangers to share what they do and how much they make. She's inspired to combat discriminatory tendencies in employment and close pay gaps that affect women, POC, workers with disabilities, and the LGBTQ+ community. Hannah uses her platform to educate her community on market research, salary negotiation, and labor laws to understand workers' rights. With this knowledge, she hopes to help workers grow professionally and build wealth.
Industry Track
Using Reach to Teach: The Rise of "Edutainers"
Duration: 40 minutes
Location: Room 331/332
Friday, September 29
10:50 am - 11:30 am
Featuring: Jasmine Enberg, Erin McGoff (AdviceWithErin), Casual Geographic and more
There is a growing cohort of creator-educators who are sharing their unique passions, knowledge, and expertise with loyal and engaged audiences. Whether career advice, financial literacy, creative and technical skills, or even niche passions like knitting, robotics, astronomy, and more, these creators are using their reach to teach via snackable content that's easy to digest. Their deeply engaged communities also open enormous opportunities for brands to authentically connect with aligned products and services. Hear from leading edutainers and their partners about the growing space.
Participants
---
Community Track
Creator to Creator: Hannah Williams (Salary Transparent Street) & Erin McGoff (AdviceWithErin)
Duration: 1 hour
Location: Room 336
Saturday, September 30
10:00 am - 11:00 am
Featuring: Caleb Simpson, Hannah Williams (Salary Transparent Street)
These iconic duos are doing it all — from expanding their brands and businesses to consistently uploading entertaining and engaging content. Tune in as they discuss their paths to success, share their strategies, and reveal how they maintain their position at the top of the creator economy (and their fans' feeds).
Participants
---