Danielle Sylvester and Thyri Frazier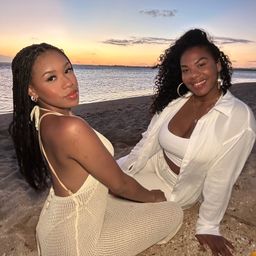 Danielle and Thyri are a mother-daughter duo that highlights healthy communications between mother and daughter, and daughter and mother. These two social media stars love to prank each other and also talk about the seriousness of life.
Community Track
OK Boomer: The Next Generation of Mental Health Advocacy
Duration: 1 hour
Location: Room 331/332
Sunday, October 1
11:30 am - 12:30 pm
Featuring: Dadlifejason, Anthpo, QueenKhamyra and more
Delve into the world behind the camera as creators share their stories of navigating mental health challenges while producing engaging content. This session explores the intersection of creativity, vulnerability, and self-care, offering insights into maintaining balance and promoting positive discussions about well-being. Learn more about how these creators are reshaping conversations and rewriting the narrative around mental health while creating a safe space for viewers to share their experiences.
Participants
---
Community Track
Hometown Pride: VidCon Baltimore Closing Show
Duration: 45 minutes
Location: Community Mainstage - Hall F
Sunday, October 1
5:30 pm - 6:15 pm
Featuring: Kaelyn Kastle, MegaGoneFree, Slice N Rice and more
You won't want to miss the grand finale of VidCon Baltimore! Tune in for show-stopping performances by creators repping their hometowns of Baltimore and beyond!
Participants
---