Gianna Marie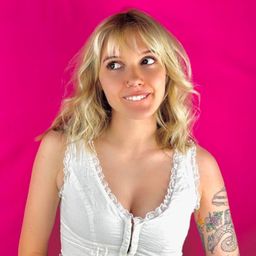 Gianna is a 23 year old full-time content creator, singer, and licensed cosmetologist based in Chicago. She strives for authenticity that shines through the screen to captivate her audience to make them feel like family. She is best known for spreading positivity through her nostalgic car karaoke videos and overall spunky short form videos across her platforms.
Community Track
Creating Communities
Duration: 1 hour
Location: Room 331/332
Saturday, September 30
11:30 am - 12:30 pm
Featuring: Tee Noir, Chadio, Gianna Marie and more
Now more than ever, we can connect with others who share our interests, passions, and views. These dynamic creators will have an uplifting discussion about how they've used the things that make them unique to create communities that provide welcoming, safe spaces for their fans. Find out what motivated them to build these spaces, why these communities are valuable, and their advice for future creators who wish to do the same.
Participants
---
Community Track
From Virtually Unknown to Viral
Duration: 1 hour
Location: Room 337/338
Saturday, September 30
2:30 pm - 3:30 pm
Featuring: Merrick Hanna, Gianna Marie, AngryReactions and more
In this thoughtful discussion, creators will discuss what it's actually like to be internet famous. They will reflect on what they wish they'd known before developing a following, the impacts of going from unknown to being recognized in public, and what future creators should know in order to prepare and protect their mental health.
Participants
---