Chelsea Bear (@RealChelseaBear)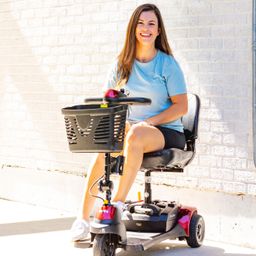 Chelsea Bear is a content creator based in Tampa, Florida who has over 750,000 followers combined across all social media platforms. Her parents began to notice her mobility was limited at just a few months old, but it wasn't until she was three when she was officially diagnosed with cerebral palsy. Chelsea's disability impacts the way she walks, and she uses a mobility scooter part time for long distances. She shares her experiences of living with cerebral palsy on social media with educational, fun and lighthearted content that aims to create acceptance and break down stigmas often associated with disabled people. Chelsea loves to highlight accessible travel, adaptive fitness, dating with a disability, and much more, and has garnered millions of views with dozens of videos that have gone viral since she began her content creation journey in 2020.
Community Track
From Virtually Unknown to Viral
Duration: 1 hour
Location: Room 337/338
Saturday, September 30
2:30 pm - 3:30 pm
Featuring: Merrick Hanna, Gianna Marie, AngryReactions and more
In this thoughtful discussion, creators will discuss what it's actually like to be internet famous. They will reflect on what they wish they'd known before developing a following, the impacts of going from unknown to being recognized in public, and what future creators should know in order to prepare and protect their mental health.
Participants
---
Community Track
Beyond Barriers: Promoting Inclusivity through Awareness
Duration: 1 hour
Location: Room 337/338
Sunday, October 1
11:30 am - 12:30 pm
Featuring: Molly Burke, Nicolas Roman (@xtheromanempire), Imani Barbarin (Crutches And Spice) and more
This panel showcases the transformative impact content creators have on disability awareness. Learn how these influencers are using their platforms to destigmatize hidden disabilities, initiate crucial conversations within their communities, and promote a more inclusive society that embraces the experiences of all individuals.
Participants
---