Kiran + Nivi (@kiranandnivi)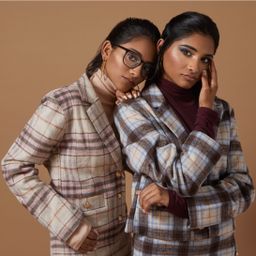 Twin powerhouses Kiran + Nivi are quickly on the rise with a mission to bring their Indian classical music roots into the pop vernacular. Kiran + Nivi are growing steadily with 2.7M+ followers on TikTok alone, releasing consistent content achieving multiple million views each. Their most popular TikTok, "Hopelessly Devoted" has surpassed 18M views. With their explosive presence on social media, K+N are positioned as a coveted brand partner having worked with the likes of Paramount, Spindrift, Walmart, Instagram, Jack In The Box, Comcast Xfinity, VMAs, Candy Crush, Coca-Cola, Zenni, Old El Paso, and others. The twins are followed by many of today's hottest celebrities, and were approached by Jason Derulo, who invited them to collaborate on a TikTok supporting his song. They have also been amplified by household names like Alicia Keys, Shawn Mendes, Sia, Meghan Trainor, Lizzo, Michael Bublé and James Arthur. They appeared on Good Morning America's Asian American and Pacific Islander Inspiration List where they were nominated by Freida Pinto. The ladies have given 10+ concerts this past year, including in NYC's Time Square at 2022 Diwali Times Square, in both western pop and Carnatic (South Indian classical) formats. They are featured singers in Disney's World's Best, including on the official soundtrack. They are also performing artists in the soundtrack for the film "Kuttey, as well as in Apple Original Fursat, both directed by Vishal Bharadwaj. The ladies have been honored to be invited to today's hottest red carpets including The VMAs, Billboard Women in Music Awards, and a host of premieres. Kiran + Nivi's latest single, "8 billion people", has garnered instant success, with 9M+ streams and 90K+ playlist adds among them, myriad Spotify Viral 50 Charts, Spotify's Pop Up, Teen Beats, and I'm Not Crying You Are. In addition, the song was featured atop Rolling Stone India's new music digest, and has charted Top 100 Shazam in multiple territories.
Community Track
Doing Numbers, My Music Went Viral!
Duration: 1 hour
Location: Room 339-342
Saturday, September 30
11:30 am - 12:30 pm
Featuring: Kyle Exum, Brooklyn Queen, Shiadanni and more
Musicians are embracing the power of social platforms to spread their art and find their audience. In this session, tune in to hear how your favorite musical creators carved out a space for themselves not only on the internet, but in the world of music as a whole.
Participants
---
Community Track
Family Ties
Duration: 1 hour
Location: Room 331/332
Saturday, September 30
2:30 pm - 3:30 pm
Featuring: The McFarlands, Dadlifejason, Merrell Twins and more
Explore the intricacies of creating content alongside family members, and the effects of this dynamic on the personal and professional lives of these creators. Discover their approaches to distinguishing work hours from leisure time, and how familial connections contribute to their collaborative efforts.
Participants
---
Community Track
VidCon Evening Show: "Yes, and..."
Duration: 1 hour 30 minutes
Location: Community Mainstage - Hall F
Saturday, September 30
6:30 pm - 8:00 pm
Featuring: Basement Gang (Kadeem), Basement Gang (Nate James), Basement Gang (Nick) and more
Saturday culminates in a high energy variety show with performances from your favorite creators. Music, dance, comedy and...well, you'll just have to be there to find out.
Participants
---