Calle y Poché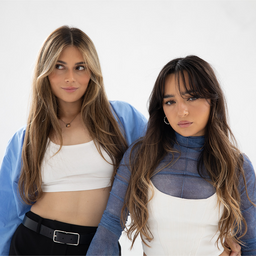 Calle y Poché (Daniela Calle y Maria José Garzón) son la pareja de estrellas multiplataforma más populares de la región. Cantan, bailan, escriben e innovan, construyendo una nueva cultura con su contenido multiplataforma, y con el apoyo de una sólida comunidad de más de 40 millones de seguidores.
Compartir la misma visión fue lo que las llevó a crear una propuesta de contenido variado y de calidad que ha marcado la diferencia en el mundo digital, siendo nombradas como como dos de las 100 Latinas Powerhouse por la revista ¡Hola! USA, y como la pareja de Mujeres Imparables por NBC-Telemundo.
Desde la publicación de su primer video hace 7 años, han sido reconocidas con 16 de los premios más importantes de la industria, entre ellos, el People's Choice Awards, como Creadoras del Año, 4 MTV MIAW, incluyendo Ícono del Año y Podcaster del Año, el Produ Award, como Creadoras Revelación, 4 Tú Awards, el Young Influencers Creating a Better World for All por el Women Economic Forum de Iberoamérica, el British LGBTQ Award, entre otros; Y nominaciones a los Premios Juventud de Univision, y 2 nominaciones a los Streamy Awards, los premios más importantes del mundo digital a nivel global.
Su podcast Original de Spotify, Bilateral, se ubicó entre los Top 10 podcasts más escuchados en Latinoamérica y España; su primera novela, Sí, Si Es Contigo, logró ubicarse en la lista del Top 5 de los libros más vendidos en la región en sus 7 ediciones, y una edición especial que rompió récords de preventa. Este año publican su segunda novela, ¿Y Si No Es Conmigo? que ya se ubica en las listas de preventa más anticipadas antes de su presentación oficial en la Feria Internacional del Libro de Bogotá, y regresan al mundo del podcast con Human of Interest, donde cada episodio es una nueva
'investigación' junto a una 'persona de interés' con una 'careo' muy humano, divertido y entretenido
Son la primera pareja del mismo sexo en aparecer en una serie de Disney Latin América, y han sido portada de las revistas más relevantes en la región, entre ellas, Cosmopolitan y Rolling Stone.
Su colaboración con importantes marcas como Adidas Colombia, Tommy Hilfigher Global, Coca-Cola/Sprite México, H&M Colombia, Head & Shoulders México, y Faber-Castell, por nombrar algunas, han sido de las campañas publicitarias más exitosas de latinoamérica, incluyendo una colaboración exclusiva con la marca de ropa, Shein.
En el lado social, Calle y Poché están comprometidas con ItGetsBetter, por la implementación y el respeto a los derechos de la comunidad LGBTQIA+, y Voices of Youth de Unicef, por el intercambio de ideas entre jóvenes alrededor del mundo para sobresalir y tener más oportunidades educativas y laborales.