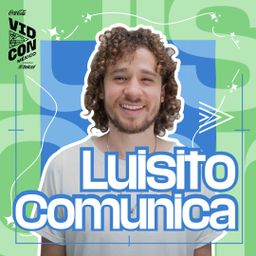 The most beloved storyteller in our country, it is impossible to resist the charisma of Luisito. With his particular carefree style, he transmits his adventures around the world with a perfect balance between curious facts, jokes and deep reflections, which make each of his videos an entertaining and addictive experience for everyone who watches them. The curiosity of this famous "rascal" covers practically all areas. With his witty themes, he shows us everything from the wildlife of a lost tundra, to the hidden stories of Tokyo's subway users, making analyses and comparisons that give a real perspective on each of the places he visits. Museums, seas, exotic cultures, supermarkets, food of all kinds and the occasional anthropological experiment have given him the title of number one Spanish-speaking vlogger.
Más Allá de las Redes Sociales
Saturday, September 24, 2022
1:00 PM - 1:45 PM
La rutina de Luis Arturo Villar Sudek, mejor conocido como "Luisito Comunica", no es la misma que hace dos años. Hoy, el creador de contenido divide su agenda entre ser YouTuber y gestionar su creciente cartera de negocios, que abarca desde la industria restaurantera y tequilera hasta la de telefonía móvil. Como uno de los pioneros en la creación de contenidos para YouTube en Latinoamérica y armado con 68 millones de seguidores repartidos entre Instagram y su canal de videos, era cuestión de tiempo para que comenzaran a llegar las propuestas y la curiosidad por emprender proyectos fuera de las redes sociales.
Redes Sociales: El futuro del creador
Sunday, September 25, 2022
11:30 AM - 12:00 PM
Conversamos con uno de los creadores de contenido mejor posicionados en América Latina, sobre su proceso creativo y como ve el futuro de las redes sociales con la aparición de la Web 3