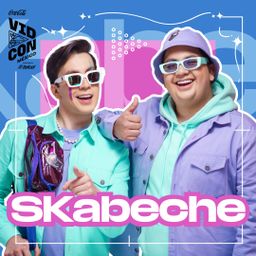 Behind Skabeche are brothers Bryan and Eddy Villanueva, the perfect duo of content creators who rose to fame in 2014 due to a series of comic videos where they made jokes, which led them to become one of the favorite and preferred comic content creators in Latin America. Their content has evolved over time, creating new formats such as challenges, tags, but always placing the touch of humor that defines them. In 2019 they were the first digital celebrities to become ambassadors of the NGO World Vision.
Skabeche has managed to win the admiration, loyalty and respect of their fans. Their spontaneity and naturalness is undoubtedly what has positioned them as leading creators in entertainment.
Skabeche continues to break creative barriers with its particular dynamism, attracting new generations to be part of its community. Showing alternatives and new universes within its content, which will continue to transform and intensify each experience as something unexpected, being a seal of guarantee, to go beyond what you can expect.
El auge de los creadores multiformato
Saturday, September 24, 2022
11:00 AM - 11:45 AM
YouTube es ahora el lugar para todo tipo de creación de contenido, desde shorts, formato de contenido largo, contenido en vivo e incluso audio. En este panel Chingu Amiga y Skabeche hablarán sobre el gran cambio que estamos viendo en YouTube en torno a lo que llamamos Creadores Multiformato.
Meet & Greet Skabeche
Saturday, September 24, 2022
2:45 PM - 4:45 PM
Ahora todos los boletos podrán tener acceso al meet and greet. ¡Lo único que tienes que hacer es llegar temprano el día del meet and greet, escoger a los que quieras conocer y listo!
Solo habrán 150 boletos por creador, así ponte las pilas y no te quedes fuera
La fraternidad más divertida de YouTube: conociendo a Skabeche
Sunday, September 25, 2022
3:30 PM - 4:30 PM
La fraternidad mas cool de Youtube el duo de Bryan y Eddy son los comediantes favoritos de Youtube, famosos por hacer bromas durante varios años, ganadores de Kids' Choice Award México, conoce todo sobre ellos, sus gustos, hobbies y demás. Tienen una tienda donde encontrarás productos como playeras, accesorios, chamarras y conjuntos para niños y adultos.