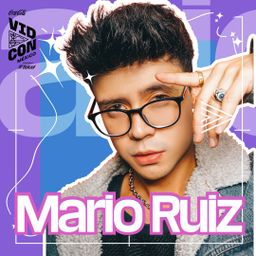 Mario Ruiz is one of the pioneers in the creation of digital content and today is one of the leading multiplatform stars in the region. With over 22 million followers across all his networks, Mario's humor and creativity in his digital content has led him to host and win five of the industry's most important awards, including 3 MTV MIAWs and a Premio Juventud, and host his own show on National Geographic, Reto Imposible, be one of the celebrities invited to participate in HBO Max's first BakeO Colombia, and launch a collaboration with the eyewear brand, Hawkers. Mario, who is committed to social causes, has participated in telethons in Colombia and the United States, and is an ambassador for WWF.
Haz que todos te conozcan: Estrategias para crecer en redes sociales
Saturday, September 24, 2022
11:50 AM - 12:20 PM
Incursionar en el mundo de las redes sociales es un camino apasionante, divertido y lleno de mucha creatividad. Ahora queremos revelarte el secreto para hacer que más y más personas te conozcan, contándote las experiencias de influencers que destacan por su creatividad y buen humor. Ven con nosotros a conocer las estrategias para crecer en redes sociales.
Explorando ideas: cómo es el trabajo de co-creación con marcas
Sunday, September 25, 2022
11:15 AM - 11:45 AM
Influenciar no es tarea fácil y es una gran responsabilidad, por eso el trabajo de co-creación entre creadores y marcas se ha vuelto fundamental para el crecimiento de ambos en las redes sociales. Te contamos todo lo que hay detrás del trabajo de co-creación de contenido