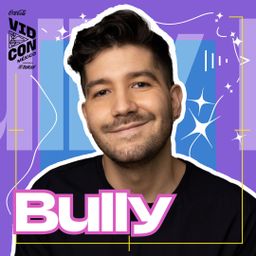 One of the first content creators in Latin America who has evolved into a host and performer as well as a haughty voice on the responsible use of social networks.
Trucos para volverse viral: Cómo crear contenido original
Saturday, September 24, 2022
12:45 PM - 1:15 PM
Algunos alcanzan la fama de la noche a la mañana, pero para otros, el camino es mucho más largo. ¿Qué camino es mejor? ¡Descúbrelo por ti mismo en esta sesión donde probamos tendencias notables!
Salud mental para creadores: como enfrentar las críticas y los estándares de las redes sociales
Sunday, September 25, 2022
11:00 AM - 11:20 AM
La importancia de la salud mental y el autocuidado no puede subestimarse. Únase a estos creadores mientras discuten cómo priorizan su salud mental tanto en línea como fuera de ella.
Meet & Greet Bully
Sunday, September 25, 2022
2:45 PM - 4:45 PM