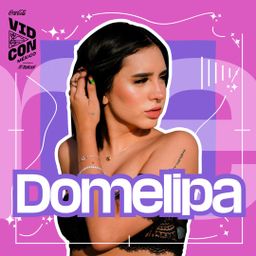 More than 50 million followers on TikTok, 17 million on Instagram and 4M subscribers on YouTube, endorse the unique and personal style of @Domelipa as she is known in networks. At only 20 years old, Dome has become one of the biggest networking stars in Mexico and the world, collaborating with renowned artists, influencers from all over the world and working with international brands such as YSL Beauty, D&G, Adidas and Pandora, among others.
Winner of different recognitions in the digital world, being nominated several times in awards such as the Éliot Awards, the MTV MIAW and the Kid's Choice Awards Mexico, being winner of the latter in the category of Creator #ParaTi in 2021. Dome is in the world ranking of the most followed people on TikTok, in the #16 position.
La clave del éxito para Domelipa, Brianda y Legna
Saturday, September 24, 2022
12:00 PM - 12:45 PM
Las mujeres han conquistado muchísimos espacios y se han ganado un gran espacio en el mundo digital, mostrando sus talentos. Te invitamos a una íntima conversación con Domelipa, Brianda y Legna Hernández, en la que te enterarás de las claves del éxito de esta mujeres jóvenes y poderosas que son ejemplo para muchas otras.
Meet & Greet Domelipa
Saturday, September 24, 2022
5:00 PM - 7:00 PM
Ahora todos los boletos podrán tener acceso al meet and greet. ¡Lo único que tienes que hacer es llegar temprano el día del meet and greet, escoger a los que quieras conocer y listo!
Solo habrán 150 boletos por creador, así ponte las pilas y no te quedes fuera