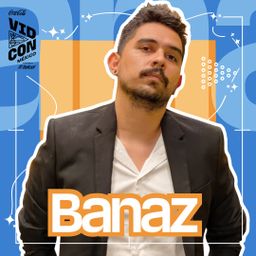 Social media star who became known for his self-titled YouTube channel where he shares videos of challenges, pranks, gaming and vlogs. He has accumulated more than 1.6 million subscribers. He is also popular on TikTok for his comedy videos and has over 5 million fans on his soybanaz channel.
Meet & Greet Banaz
Saturday, September 24, 2022
10:00 AM - 12:00 PM
Ahora todos los boletos podrán tener acceso al meet and greet. ¡Lo único que tienes que hacer es llegar temprano el día del meet and greet, escoger a los que quieras conocer y listo!
Solo habrán 150 boletos por creador, así ponte las pilas y no te quedes fuera
Crossover de influencer a artista músical: Conoce a tus artístas favoritos
Saturday, September 24, 2022
2:30 PM - 2:50 PM
Conoce directamente de creadores musicales y artistas todo acerca del mundo de la música. Explora el proceso creativo y aprende como utilizan sus talentos en diversas redes sociales. Disfruta de una amena discusión en torno a como hacer canciones populares para el mercado latinoamericano.
Aprovechando la tecnología básica para la creación de contenido
Sunday, September 25, 2022
2:30 PM - 3:00 PM
Si tu meta es convertirte en creador de contenido, te interesa el mundo de los nómadas digitales, esta es una gran oportunidad. Te enseñamos como aprovechar al máximo las herramientas digitales que tienes a la mano para avanzar en tu carrera como creador de contenido y dar el siguiente paso en redes sociales.