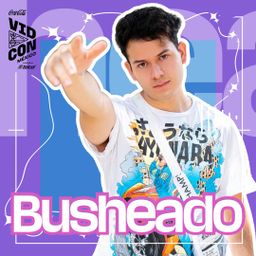 Everyone calls me bush, I'm 21 years old and I have more than 13 million followers on tiktok, I make videos of incredible and crazy things, like experiments, challenges and I take everything to a large scale, I also try to help and surprise my followers.
Haz que todos te conozcan: Estrategias para crecer en redes sociales
Saturday, September 24, 2022
11:50 AM - 12:20 PM
Incursionar en el mundo de las redes sociales es un camino apasionante, divertido y lleno de mucha creatividad. Ahora queremos revelarte el secreto para hacer que más y más personas te conozcan, contándote las experiencias de influencers que destacan por su creatividad y buen humor. Ven con nosotros a conocer las estrategias para crecer en redes sociales.
Meet & Greet Busheado
Saturday, September 24, 2022
5:00 PM - 7:00 PM
Ahora todos los boletos podrán tener acceso al meet and greet. ¡Lo único que tienes que hacer es llegar temprano el día del meet and greet, escoger a los que quieras conocer y listo!
Solo habrán 150 boletos por creador, así ponte las pilas y no te quedes fuera
Aprovechando la tecnología básica para la creación de contenido
Sunday, September 25, 2022
2:30 PM - 3:00 PM
Si tu meta es convertirte en creador de contenido, te interesa el mundo de los nómadas digitales, esta es una gran oportunidad. Te enseñamos como aprovechar al máximo las herramientas digitales que tienes a la mano para avanzar en tu carrera como creador de contenido y dar el siguiente paso en redes sociales.