Legna Hernandez
Raw Talent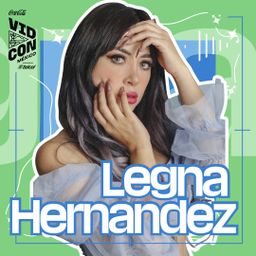 Legna Hernandez is a famous YouTube inuencer and TikTok star who rose to fame after publishing videos of dances, lypsync and choreographies on the famous platform, becoming an internet celebrity. Legna was born on July 6, 1996 in Mexico City and is currently considered one of the most famous tiktokers in the country. From a very young age she was a very creative person who got excited making crafts, which is why she created her YouTube channel making DYI's and similar content.
Over time, Legna also started creating content focused on makeup, one of her passions and another reason why her videos on networks are often famous. Over the years, Legna's content has specialized in lifestyle, giving her followers tips on how to dress, how to apply makeup and even how to decorate your room. In addition, Legna also excels in sports and during her teenage years she was a cheerleader.
La clave del éxito para Domelipa, Brianda y Legna
Saturday, September 24, 2022
12:00 PM - 12:45 PM
Las mujeres han conquistado muchísimos espacios y se han ganado un gran espacio en el mundo digital, mostrando sus talentos. Te invitamos a una íntima conversación con Domelipa, Brianda y Legna Hernández, en la que te enterarás de las claves del éxito de esta mujeres jóvenes y poderosas que son ejemplo para muchas otras.
Es cuestión de estilo: las tendencias de moda para el 2022
Sunday, September 25, 2022
1:40 PM - 2:00 PM
La tendencia es un estilo, que en moda se manifiesta a través de la ropa y los complementos, que queda plasmado de forma continua, durante un periodo de tiempo, en un lugar concreto. La tendencia en moda implica ser original, diferente y exclusivo, en el momento que una tendencia se alarga en el tiempo se convierte en obsoleta dando lugar a otra nueva. La palabra final siempre la tiene el público, un diseñador puede proponer ideas pero si el público no las emplea y no se ven en la calle estas no salen hacia adelante, de ahí la importancia en la actualidad del Street style (estilo de la calle). Los nuevos medios de comunicación propician que las tendencias evolucionen de una forma muy rápida. Por ello las tendencias en moda suelen ser muy efímeras. Antes sólo encontrábamos referentes de estilo en las personas relevantes que aparecían en los medios de comunicación. En la actualidad el Internet facilita el hecho de que los referentes de estilo ya no sean las personas famosas sino la gente normal.
Meet & greet Legna Hernandez
Sunday, September 25, 2022
5:00 PM - 7:00 PM