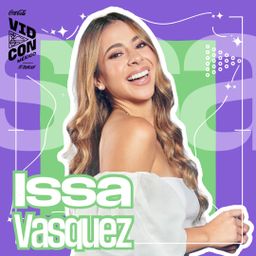 Issa Vasquez is one of the fastest growing fitness, health and lifestyle content creators in the region. Named by Forbes magazine as one of the top 10 most relevant tness creators in the region. Her simple ways of saying and doing things have been the inspiration for millions of followers who every day have their eyes on Issa's platforms for the latest healthy lunch, the latest workout routines or a daily makeup tutorial, with an above average daily engagement rate, reach and impressions. Her passion has led her to the entrepreneurial world, and she has just launched her first health food brand, Natif (@NatifByIssaVasquez).
Marca personal disruptiva: 4 Casos de éxito de mujeres que lideran la industria digital
Saturday, September 24, 2022
12:00 PM - 12:30 PM
En este panel lleno de estrellas multiplataforma, escucharemos de primera mano las historias de cada una de estas mujeres que lograron exitosamente construir una marca personal disruptiva. Además, entra en detalle cómo crear, crecer, posicionar e impactar comunidades y trascender en el tiempo.
Contenido sexual y moderación: Donde pintamos la raya
Sunday, September 25, 2022
12:40 PM - 1:10 PM
Diariamente consumimos contenido en redes sociales y vemos contenido sexual explícito, pero como creadores de contenido debemos trazar una linea entre la moderación y el contenido sexual. Daremos consejos y recomendaciones para poner limites e identificar lo que nos gusta y nos hace sentir bien.