Cecilia Velazquez
Directora at Médano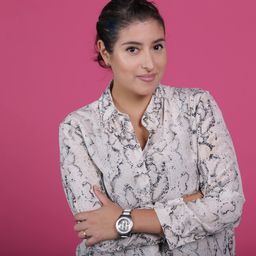 Cecilia is an expert in streaming and short video. With a great trajectory in video production, she led Facebook's studios in LATAM and was responsible for installing short video actions in our region. She is also a renowned trainer of creators and producers. Currently, from her venture Médano, she helps brands and MCNs that seek to develop and nance projects on different platforms.
Producción a escala para redes sociales
Friday, September 23, 2022
12:20 PM - 12:50 PM
Es hora de pasar al próximo nivel. ¿Cómo funciona el modelo de producción a escala para redes sociales? ¿Quiénes son los nuevos players del mercado, qué oportunidades generan y cómo colaborarán con marcas y creadores? ¿Cómo migrar un modelo de producción audiovisual tradicional a uno 100% digital a escala? Desde mi experiencia como productora ejecutiva en Facebook y Kuaishou les presentaré los beneficios, desafíos y tendencias de la producción profesional para redes sociales.
Herramientas para la creación de contenido corto atractivo para tu audiencia
Sunday, September 25, 2022
4:10 PM - 4:40 PM
La velocidad de crecimiento del entorno digital, las plataformas de contenido y los creadores es evidente, y para entender su impacto hay que escuchar de primera mano a los protagonistas del cambio. Conoceremos sobre las oportunidades que el formato de video corto brinda al ecosistema de creadores y las nuevas formas de expresión que se han desarrollado recientemente en el mundo digital. Conoce como nuestros influencers crean contenido corto, te darán tips y recomendaciones de como grabarlo, como editarlo y como postearlo.