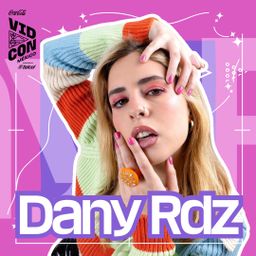 Daniela's ability to connect with her audience has driven social networks crazy. Her funny life anecdotes and her close relationship with her mother have allowed her audience to empathize and identify with her to the point that they love her and feel her as a friend. In addition, she is an advocate and promoter of women's rights and the LGBT community.
Libertades: Una plática de diversidad con la cómunidad LGBT+
Saturday, September 24, 2022
11:00 AM - 11:20 AM
Evolucionar es el principio de la preservación de la vida, pero la evolución ha tomado un nuevo sentido en la era digital. Los estándares que conocíamos han quedado en el pasado, las barreras se han ido difuminado y ahora nos reconocemos por nuestro valor, más allá de nuestra apariencia. La libertad es el centro de la vida y te invitamos a vivir la libertad desde la diversidad, el respeto, la aceptación y el amor. Comparte con los creadores mejor posicionados del momento sus experiencias de vida y las anécdotas más divertidas que los han hecho evolucionar.
Meet & Greet Dany Rdz
Saturday, September 24, 2022
5:00 PM - 7:00 PM
Ahora todos los boletos podrán tener acceso al meet and greet. ¡Lo único que tienes que hacer es llegar temprano el día del meet and greet, escoger a los que quieras conocer y listo!
Solo habrán 150 boletos por creador, así ponte las pilas y no te quedes fuera
Salud mental para creadores: como enfrentar las críticas y los estándares de las redes sociales
Sunday, September 25, 2022
11:00 AM - 11:20 AM
La importancia de la salud mental y el autocuidado no puede subestimarse. Únase a estos creadores mientras discuten cómo priorizan su salud mental tanto en línea como fuera de ella.