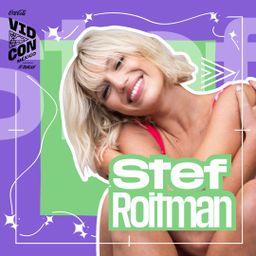 Stef Roitman is one of the most prominent actresses, presenters and entrepreneurs in the region. Known for her roles in telenovelas such as Simona and host of shows such as La Voz Argentina #ModoLive, Stef is a multiplatform star with a high reach throughout the region.
Marca personal disruptiva: 4 Casos de éxito de mujeres que lideran la industria digital
Saturday, September 24, 2022
12:00 PM - 12:30 PM
En este panel lleno de estrellas multiplataforma, escucharemos de primera mano las historias de cada una de estas mujeres que lograron exitosamente construir una marca personal disruptiva. Además, entra en detalle cómo crear, crecer, posicionar e impactar comunidades y trascender en el tiempo.
Es cuestión de estilo: las tendencias de moda para el 2022
Sunday, September 25, 2022
1:40 PM - 2:00 PM
La tendencia es un estilo, que en moda se manifiesta a través de la ropa y los complementos, que queda plasmado de forma continua, durante un periodo de tiempo, en un lugar concreto. La tendencia en moda implica ser original, diferente y exclusivo, en el momento que una tendencia se alarga en el tiempo se convierte en obsoleta dando lugar a otra nueva. La palabra final siempre la tiene el público, un diseñador puede proponer ideas pero si el público no las emplea y no se ven en la calle estas no salen hacia adelante, de ahí la importancia en la actualidad del Street style (estilo de la calle). Los nuevos medios de comunicación propician que las tendencias evolucionen de una forma muy rápida. Por ello las tendencias en moda suelen ser muy efímeras. Antes sólo encontrábamos referentes de estilo en las personas relevantes que aparecían en los medios de comunicación. En la actualidad el Internet facilita el hecho de que los referentes de estilo ya no sean las personas famosas sino la gente normal.