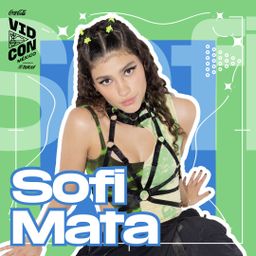 Sofi Mata is a TikToker, YouTuber and singer who has made her followers fall in love with her original personality.
Crossover de influencer a artista músical: Conoce a tus artístas favoritos
Saturday, September 24, 2022
2:30 PM - 2:50 PM
Conoce directamente de creadores musicales y artistas todo acerca del mundo de la música. Explora el proceso creativo y aprende como utilizan sus talentos en diversas redes sociales. Disfruta de una amena discusión en torno a como hacer canciones populares para el mercado latinoamericano.
La metodología loser: convierte el fracaso en un éxito
Sunday, September 25, 2022
3:20 PM - 3:50 PM
¿Eres creador de contenido o estás luchando para serlo? ¿Cómo superar pequeños problemas que se vuelven grandes bolas de nieve? Recién comenzaste el streaming y ya se cayó cuatro veces, lo tóxico de tu comunidad se ha salido de control, tu contenido siempre va en contra de las tendencias. No te preocupes, es preferible fallar a no haberlo intentado. Ven y abraza el fracaso con unos minutos de catarsis y humor sobre cómo superar los problemas y convertirlos en aprendizajes en el camino al éxito como creadores de contenido.