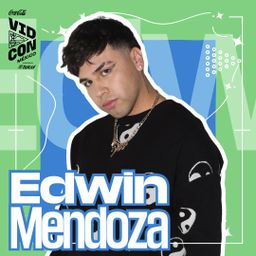 Edwin Mendoza is an inuencer from Monterrey who has stood out for his varied comedy and dance content. His sense of humor has earned him more than 14M followers on his TikTok account.
Meet & Greet Edwin Mendoza
Saturday, September 24, 2022
2:45 PM - 4:45 PM
Ahora todos los boletos podrán tener acceso al meet and greet. ¡Lo único que tienes que hacer es llegar temprano el día del meet and greet, escoger a los que quieras conocer y listo!
Solo habrán 150 boletos por creador, así ponte las pilas y no te quedes fuera
Probando tendencias
Sunday, September 25, 2022
12:45 PM - 1:05 PM
Si quieres captar la atención con estrategias de marketing que aporten valor a tus seguidores es clave contar con un nivel de conociminetos. Y qué mejor que estar actualizado con las ultimas tendencias en las redes sociales.
La metodología loser: convierte el fracaso en un éxito
Sunday, September 25, 2022
3:20 PM - 3:50 PM
¿Eres creador de contenido o estás luchando para serlo? ¿Cómo superar pequeños problemas que se vuelven grandes bolas de nieve? Recién comenzaste el streaming y ya se cayó cuatro veces, lo tóxico de tu comunidad se ha salido de control, tu contenido siempre va en contra de las tendencias. No te preocupes, es preferible fallar a no haberlo intentado. Ven y abraza el fracaso con unos minutos de catarsis y humor sobre cómo superar los problemas y convertirlos en aprendizajes en el camino al éxito como creadores de contenido.