Leyendas Legendarias
Leyendas Legendarias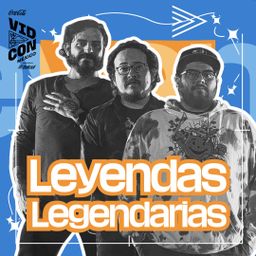 Leyendas Legendarias is a comedy podcast where every week Jose Antonio Badía tells Eduardo Espinoza and Mario Capistrán about true crime cases, paranormal phenomena that earned the title of Leyendas Legendarias.
Jose Antonio Badia is a comedian, virtual artist, actor, writer and amateur paranormal investigator born and raised in the desert of Ciudad Juarez. His incessant curiosity for criminology, the mysterious, the occult and the macabre led him to combine his skills and knowledge to help conjure up the Legendary Legends podcast. Now he is dedicated to doing everything he loved to do since he was a kid, but with an audience and budget. He is also host of El Dollop.
Eduardo Espinosa is a pale comedian originally from Ciudad Juarez, Chihuahua. He started doing stand up when he was 27 years old, from 28 to 32 he was head writer and co-host of El Late Night with Badía and from 32 he ventured into the world of podcasting with Leyendas Legendarias. When he's not making inappropriate comments near a microphone, he enjoys music, video games and making inappropriate comments away from a microphone.He is also host of El Dollop.
Mario Arturo López Capistrán aka El Borre is originally from Ciudad Juárez, he is known for being a divine, pachoncita and cruel creature. He lived all his life in Ciudad Juárez until he decided to take a journey beyond the one he knew in the mushrooms to the state of SLP. When he returned to his beloved Juaritos he dedicated himself to finding the perfect glass of chocomilk and finally found it in the affection of the new family he had formed: Leyendas Legendarias. He got married and is now happy with a son, wife and finally found what he had always been looking for: a job where he is treated as a human being.
Meet & Greet Leyendas Legendarias
Saturday, September 24, 2022
12:30 PM - 2:30 PM
Ahora todos los boletos podrán tener acceso al meet and greet. ¡Lo único que tienes que hacer es llegar temprano el día del meet and greet, escoger a los que quieras conocer y listo!
Solo habrán 150 boletos por creador, así ponte las pilas y no te quedes fuera
Leyendas Legendarias
Saturday, September 24, 2022
3:30 PM - 4:30 PM
¿Estás preparado? Ven a conocer lo que hay detrás de uno de los podcast de comedia más populares de México. En él cada semana se habla de casos de crimen real, fenómenos paranormales o eventos históricos tan peculiares, notorios y fantásticos que se ganaron el título de Leyendas Legendarias.