Lina Cáceres
CEO Latin World Digital, VP Digital Department de LWE at LatinWE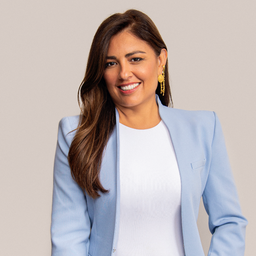 Lina Caceres is the founder of Latin World Digital and Vice President of Digital Artist Development, Commercial and New Business at Latin World Entertainment, the leading Hispanic talent management and entertainment marketing company in the U.S. founded by actress Soa Vergara and media executive Luis Balaguer.
With over 20 years of experience in the entertainment industry, she is one of the most recognized digital talent managers in the Hispanic entertainment world, as well as a bestselling author with her 2020 release of her book Cómo Triunfar En El Mundo Digital (How To Triumph in The Digital World). Lina is responsible for managing and expanding the careers of top Hispanic social media content creators, working with brands and media companies to diversify the talent of over 20 top digital celebrities; brands and media companies such as Disney, Nickelodeon, National Geographic, MTV, Samsung, Coca-Cola, Disney's Digital Network, Planeta and Penguin-Random House Publishers, Maesa, NBCUniversal, Univision, HP, P&G, Huawei, Foreo, Universal Music Group and Nestle, to name a few. To date, she has also successfully published over 10 bestsellers by some of the top Hispanic digital content creators, and co-developed and launched Paula By PauTips, one of the most popular and best-selling makeup brands by a digital celebrity.
Her extensive knowledge in both traditional and digital media has given the opportunity to share her experience in more than 15 of the most important conferences, workshops and media in the region such as META Summit Latam 2022, WEF 2021 and 2020 Iberoamerica, Vidcon Now, Fiap, Women in Media 2019, CNN en Español, Produ and many others. She is also part of the advisory board of VidCon Mexico.
Her background as a journalist, social communicator, her experience as a television producer and her knowledge of the digital content world helped her develop and expand the careers of the most successful Hispanic content creators.
Cómo hacer de las pasiones el negocio de tu vida. Historias de éxito
Friday, September 23, 2022
7:10 PM - 7:30 PM
A veces, lo más aterrador que puedes hacer para perseguir tus sueños es dar ese salto de fe inicial. Entonces, ¿cómo superas tu miedo a lo desconocido y das ese paso? Encuentra a alguien que lo haga contigo, únete a Lina Caceres para hablar sobre cómo construir una carrera en torno a la pasión, la creatividad, la comunidad y cómo dar ese salto de fe para comenzar, hablará sobre historias de éxito que hicieron de su pasión el negocio de su vida