Caín Guzmán
Content Creator at Midas Talent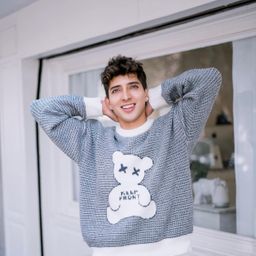 The super inuencer Cain Guzman becomes the first Mexican to premiere an exclusive social show through Snapchat. At just 24 years old, Cain is an internet celebrity, actor, singer, model and renowned social media content creator. His show Top Views with Caín Guzmán will have unique surprises every week, with totally original content from the Discover section of the app.
To learn more about his new program on Snapchat, his career and his tips for creating viral content, we invite you to conduct an interview with Cain.
"It's a 100% authentic and exclusive program for Snapchat. Each week, episode after episode, we will have a very lively, fun and dynamic format," says Cain Guzman. "I will invite other influencers or personalities from everyday life to participate, showing the funniest side of each participant with challenges, questions, memories of their best moments and anecdotes from this 4-year journey being a content creator. We really want to show what it's like to live and the challenges we face."
Cain Guzman is an internet celebrity who has positioned himself in the top spots through his comedy videos that he records, edits and publishes himself. Most of his publications add up to more than one million reproductions, showing comedy sketches, funny activities with his friends, viral challenges and even some pranks.
She also stands out as a person who always likes to help others and encourage them to follow their dreams. She has diversified her content on different platforms, with vlogs and entertainment videos. She has millions of followers on social media and is a Snap Star on Snapchat, where she shares her daily stories and funny Spotlight videos.
Trucos para volverse viral: Cómo crear contenido original
Saturday, September 24, 2022
12:45 PM - 1:15 PM
Algunos alcanzan la fama de la noche a la mañana, pero para otros, el camino es mucho más largo. ¿Qué camino es mejor? ¡Descúbrelo por ti mismo en esta sesión donde probamos tendencias notables!