Sierra Schultzzie
Content Creator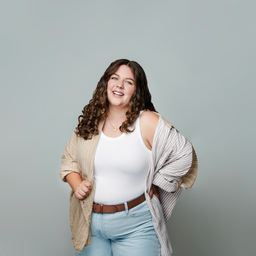 Sierra Schultzzie is a digital creator best known for her experimental fashion videos, podcast, and vlogs that celebrate self love, motherhood, and inclusivity, inspiring women of all sizes to be confident and be kind to their body. Sierra has surpassed 1 million subscribers on YouTube and was a 2019 Streamy Award nominee for Fashion.
Community Track
Every Body is Beautiful
Duration: 1 hour
Location: Amplify Stage
Thursday, June 22
2:30 pm - 3:30 pm
Featuring: Sierra Schultzzie, naomiheartsxo, Nikki Garza and more
The body confidence movement is gaining more and more traction every day with many creators embracing what makes them unique and encouraging their fans to do the same. Listen in on this discussion on the importance of this shift and the impact of viewers seeing themselves in the people they see on screen. Plus, panelists will touch on ways that the media and marketing campaigns have gotten it right and when they have missed the mark.
Participants
---
Community Track
Balancing Act
Duration: 1 hour
Location: Creative Lab Stage
Saturday, June 24
10:00 am - 11:00 am
Featuring: Sierra Schultzzie, Leo González, Chrissy Marshall and more
Like any other full-time job, it's important to cultivate a sense of work-life balance as a content creator. But it can be difficult to find this balance when your work is not confined within office walls or specific hours. In this panel, creators will talk through the importance of developing healthy habits focused on preventing burnout and maintaining an overall sense of well being.
Participants
---
Industry Track
Formalizing the Back-of-Camera Ecosystem
Duration: 40 minutes
Location: Ballroom D
Friday, June 23
3:20 pm - 4:00 pm
Featuring: Sierra Schultzzie, Rebecca Zamolo, Devin Robbins and more
We recognize the people in front of the camera or mic, but pull back the curtain and it's clear a host of talented individuals are helping to create the content we see, hear, and stream. While having access to editors, copywriters, producers, graphic designers, and more is a critical piece of scaling a creator's brand, it can also be a cumbersome process. This session explores how formalizing this BOC ecosystem might ease the burden associated with discovering, evaluating, contracting, and ensuring delivery of creative services.
Participants
---
Creator Track
How to Actually Make Money Selling Stuff
Duration: 45 minutes
Location: Room 211AB
Friday, June 23
12:00 pm - 12:45 pm
Featuring: Brandi Jessup, Sierra Schultzzie, Fraize and more
Sponsored. Creator economy pioneer, best-selling author and co-owner of DFTBA.com, John Green shares the stage with two of DFTBA's top creators to discuss what their biggest unlocks have been, how to build a great product business, and why most creators never make good money from merch.
Participants
---